I see me.
This was what a donor said when speaking about the importance of recognizing the diversity of the philanthropic community in a video presented to us at the recent Women's Funding Network conference. I thought about how powerful this concept is in many other contexts too.
I see me.
It's what Stella Cornelius always coached me about when teaching me conflict resolution skills – look for the points of commonality to open up options and dialogue.
If men could more often say 'I see me' when they see the struggle of women in their families and communities, they would begin to change the equation for women, for their families and communities, and effectively reduce hunger in the process.
How would it be if the men who digitally raped and disfigured a woman who was raising funds on Kickstarter to create girl-friendly video games could see themselves in the woman they were abusing.  Others clearly could as they raced to assist her in the best way they knew how – by oversubscribing to her Kickstarter campaign and allowing her to increase the number and reach of the girl and women friendly video games she was able to create.
While we're yet to really understand the motives of the Boston brothers who used explosives to maim and kill those running in the Boston Marathon, a comment by one of the two perpetrators is telling. "I don't have one single American friend," he wrote.  His disconnection from Americans and the country in which he was living was obviously profound.  His likely radicalization on his last trip to Russia may have contributed to his increasingly fervent religious practice and to his inability to see himself in the lives and hopes and dreams of those around him. And clearly neither did his brother, for whom brother blood ties trumped any other considerations.
How would it be if we could encourage men in developing countries to see themselves in the lives of their wives and daughters, mothers and aunts?  If these men could see that the women in their lives, such as female farmers in countries such as India and Tanzania, are denied the access to bank accounts, credit, seeds, fertilizer and technical expertise that these men enjoy.  What changes might be possible if men could place themselves in the shoes of these women who are also required to do the (unpaid) work of cooking, cleaning, childcare, eldercare, water and firewood collection, among other responsibilities, while grappling with poor energy, sanitation and health services.
At the recent Women in the World conference we heard testimony from many women, both directly and through the voices of others whose clear connection of 'I see me' came through in the emotion of their reading these accounts.
For instance, Nizon Guanaes, Chairman, Grupo, ABC read the testimony of Maria Da Penha from Brazil : "my husband shot me in the back, leaving me paralyzed and he then tried to kill me. He was arrested but then released on a legal technicality. I succeeded in changing domestic violence laws in Brazil and this new law bears my name." Diane Von Furstenburg, read the testimony of Najood Ali from Yemen. "I was forced to marry at age 9 and then I sought a divorce at age 10.  I am now one of 50 girls in my class in my 2nd year of primary school. I finally feel I am a girl again…"
In Meryl Streep's tribute to the late Inez McCormack, a feminist and human rights advocate and the first female president of the Irish Congress of Trade Unions who fought hard for equal pay for equal work for all,  Streep spoke of McCormack as representing the rights of the "excluded ones" and the "invisibles." Streep: "McCormack was a real time living heroine and hers was a call to arms – for everyone to link arms. Her message was that one life can stand for the benefit of many but everyone must participate."
This call for everyone to participate was echoed by Dr Mouna Ghanem, Cofounder and Deputy to the President, Building of the Syrian State Movement.  "Women are not in the negotiation process and there's no democracy without women…Women in the camps are experiencing forced marriages, prostitution, exposure to HIV/AIDS and children are literally freezing to death. Enough is enough. We want peace. We want democracy. We want human rights. We want women represented in the political process."
23 year old Alaa Murabit, Founder and President, The Voice of Libyan Women, supported the rebels in the 2011 Libyan uprising, and has since become a political force for women in Liby.  Murabit spoke about the Koran as the point of commonality and so women conducted seminars with men that included verses from the Koran that denounced violence as part of a campaign to end domestic violence. "We needed to do it this for people to understand given that they are bound to their religion. We needed to fight fire with fire."
In other countries, women are claiming their political power. Dr Mamphela Ramphele formed a new political party in South Africa. "Every 34 seconds, a woman is raped in South Africa. One day of these statistics being sustained is one day too many. Nelson Mandela…made the greatest contribution of any human being and we want to stop the betrayal of his legacy. (His) message was the right to live in dignity…that includes equality for women.  This consciousness – the feminism and the solidarity that the women's movement inspired – made me who I am as a citizen and as a woman."
In this same brave spirit, two young women from Pakistan are risking their lives for the rights of women and girls. Humaira Bachai, Founder and President, Dream Foundation Trust visits men in different villages to get them to agree to girls getting an education. To those who say that women need to be protected and sending them to be married early is a way to retain their honor, and that of their families, Humaira says "This is the power game – men want to treat girls and women like animals." Yet she also says "Every day in Pakistan, new Malalas are born." We continue to struggle for change. We cannot allow our lives to be taken."
Khalida Brohi is the Founder and Director, Sughar Women Program, and we see a film of her talking to the men in the villages about allowing girls to go to school.  The men in these villages respond by saying
"if a girl wants to be independent, our response is the bullet."
"If a woman compromises her honor, our response is the bullet."
"If a girl has any questions regarding her empowerment, our response is the bullet."

Khalida says to the audience after we hear these words from men in the video, "I was being patient because I knew that one day these men would be working for me.  I need to change the mindset of my community. I tell my parents, if I don't do this work I will die. If I do this work, I will live. We are holding cricket tournaments for the men and in the commentary we are including messages such as 'educate girls' and 'honor killings are not okay' so that the men listen to these messages. Never underestimate the power of talking – it is part of doing dangerous work in a dangerous country."
In the film made by Sharmeen Obaid, CEO of SOC Films, Sharmeen says, "These are the women who are staying on to educate a new generation of Pakistani girls."  In response to our questions, she replied that "We need to keep educating the men. Education for all is the game changer."
When Hillary Clinton steps up to the conference stage, the crowd roars, many shouting for her to stand for Presidential election in 2014.  She relaxes visibly in this crowd and is candid in her remarks. "When women participate in peacemaking and peacekeeping we are more secure. When women participate in the politics of a nation, they make a positive difference. When we liberate women, we advance the economic policies of a nation. If we do not contribute to this campaign then the country we love and cherish will not be what it should be."
"There is a powerful new current of grassroots activism stirring…enabled by new technologies giving women and girls voices like never before…We need to be smart and savvy about what this moment means for us… The world is changing beneath our feet and we must embrace 21st century technology to advance women's and girls' human rights. Technology is where progress is coming from and where our support is needed.
"The Taliban recognized Malala as a serious threat. And they were right. She is a serious threat.  Malala is of this new generation and she has said if young people are not given pens they will be given guns. "
The Taliban's actions inspired millions of Pakistanis to say 'enough is enough' as they saw themselves in Malala's brave and resilient campaign.  Here was another instance of 'I see me.'
Clinton: "The struggles do not end when countries attempt the transition to democracy. We know that all around the world when the dust settles women's voices are lost or marginalized and they are shut out of decision-making… The only way for true liberation is for the full participation of women. A number of rapidly growing countries will create new trading partners and no country can achieve its full potential if women are left behind. Let's ensure that there is no limit to what a girl can dream and do."
In this spirit of girls' dreaming and doing, Reshma Saujani, Founder of Girls Who Code said "At Girls Who Code we're hoping to touch at least a million girls by making STEM (science, technology, engineering and math) stimulating and exciting. We need new messaging to support girls changing the world through new technologies.  For example, a girl we supported wanted to be a doctor and she started learning code – and she built an algorithm to determine whether a cancer is malignant or not.  She's 16 years old and anything is possible for her."
Leah Busque, Founder and CEO of TaskRabbit is similarly passionate. "I went to a women's college and that made me fearless and confident – I felt I could do anything. That is the number one gift I would give to girls. Girls need to see girls and women who look like them. I was planning to be a dancer on the stage one day and yet the study I was doing of math and science felt exciting. I started building robots and working with my hands and seeing the possibilities. Recently we worked with a girl in Senegal who was not digitally literate. We taught her how to use a mouse and within 8 weeks she was teaching girls how to code in 38 other languages.  The train is leaving and we can't leave girls behind.  This is a key issue of our time."
Girls have been left behind for decades in India. Barkha Dutt, Journalist and TV Anchor, NDTV, reflects that "India is a paradoxical nation where powerful positions are occupied by women and yet the focus on women is usually to protect them and not to give them choices."
Shoma Chaudhury, Managing Editor, Tehelka, agrees. "People have this idea of women as whores and saints – a woman is like a mango, you suck it dry and then spit it out; a woman is like a pearl in an oyster, we must protect her."
Chaudhury went on to say "The middle class is hyper-connected. The working class is living in a state of dispossession and yet, with this girl who was brutally raped and who died from her injuries, her father had worked long hours and brought up his children with a passion for education.  She was the face of that aspiration.  Those men who raped her were the dark side of that – they represented access. Only one of them had a history of violence. When I talked to one of the perpetrator's mothers she said "why did the voice of God not live in the soul of even one of them?"
Again, this question of why did you not see your own humanity and faith in the girl you raped and killed? Did you not see 'I' in thou?  What were you thinking when you raped the five year old girl in India and abused her with an intent to kill? Where was your connection to life itself, and the life of you as a child?
Chaudhury: "We're creating a culture of desire and dispossession – desire that takes its expression in violence. When this young woman went to stop the men from beating the man she was with, a bomb went off in the minds of the men on that bus and that's when the real brutality took place. They were outraged that she would challenge them.  We need to set men free to be human not brutes."
"We're dealing with a global crisis of masculinity. Unless we imbue women's rights with an understanding of how men need to change then we will perpetuate this situation. It's time for us to really look at men and say 'enough is enough.'  We need to recognize the importance of the feminine principle. We need to start saying 'male violence against women' to be specific since the greatest proportion of violence is committed by men against women – this doesn't happen in a gender vacuum but the way we describe it suggests so. Women's bodies have become the battlefield on which these narratives are played out. Young women are the terrain on which this battle is contested. Women are second class citizens and our humanity is compromised. We must transform this conversation to one where men and women are allies. Until then we say 'Basta. Enough. No More.' "
I fly back to San Francisco and to my beloved Sausalito. I'm so happy to be home. I hang out with the houseboat artist collective and swing along the wharves feeling light and free and strong. Everywhere I turn there's poetry and magic in the making. People are flowing out to sea in row boats, kayaks – and in larger boats with sails pitched to the wind.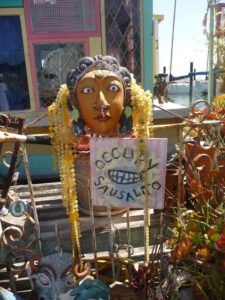 Further afield, on one of my early morning trips down the coast to the beach, I watch surfers as they rise on the swell of the waves and as they power through the curls.  I'm mesmerized by the display and again I promise myself that I'll go take some surf lessons…soon.
Back in Sausalito I trip down a wharf that feels akin to Sergeant Pepper's Lonely Hearts Club Band in its merry colors and psychedelic art. At the end of the wharf is a defiant statement of hope, or at least that's how I read it:  'Occupy Sausalito.'
And so here, in one of the richest counties in the nation, dwells a community that claims equity.
'I see me' I think as I look at one of the curious creatures, and smile.
Jane Sloane – San Francisco
Video:  Here is the I Am A Philanthropist I mentioned at the beginning..