"Women's Rights Are Human Rights," said Hillary Clinton in a video clip that opened the 3rd Women in the World Summit in New York.  At the close of this extraordinary two day Summit, Secretary Clinton was up on stage, and I was seven rows away, having just watched Meryl Streep give a moving tribute to the woman she so deeply admires.  Meryl Streep told us she was a cheerleader at Yale while Hillary Clinton was chair of the student government "and there, the two paths in the woods diverged," she smiled.  "This is what you get when you play a world leader," Streep said, showing us the Academy Award she won for her portrayal of Margaret Thatcher in the film, The Iron Lady.  "But this," and she gestured backstage to Hillary Clinton (surrounded by secret security), "is what you get when you are one."
Later, we heard from Hillary Clinton what it was like to finally be meeting with Aung San Suu Kyi having first penned a note of support for her at the Beijing Women's Conference that was delivered by Madeleine Albright straight after the conference.  Madeleine Albright was up on stage earlier too, having said "There's a special place in hell for women who don't help each other."
We were gathered at the Lincoln Center for an event organized by Tina Brown, Editor-in-Chief of The Daily Beast and Newsweek and co-hosted by a range of individuals including Sheryl Sandberg, Facebook COO, Jane Harman, former congresswoman and current head of the Woodrow Wilson International Center for scholars, Diane von Furstenberg, designer; Judith Rodin, publisher and Maya Harris, Ford Foundation Vice President.
Some of the bravest voices were of women who couldn't face us directly on stage, having to either tell us their story with their backs turned to us as they spoke, for fear of being recaptured by the men who held them as slaves, or because they were fighting on their own turf in their beleaguered countries.
We heard of the advice given to one young woman ringing an emergency hotline in London to find out how she could stop her parents taking her to Pakistan and into a forced marriage. "Put a spoon in your underwear and then when you go through the metal detector at airport security you'll set off an alarm and will be taken to a private room where you can tell the security guard what is happening to you," was the advice the hotline counselor gave her.
Suma's song was one that many of us will remember for a long time.  Suma Tharu was sold into indentured service by her parents and endured many years of rape and beatings until she was rescued by an undercover agent.  When a journalist was interviewing Suma she said 'I wrote a song about what happened to me.' 'Can you sing it?" the journalist asked.  And so she started singing it softly and then as she was singing on the video, filmed a number of years ago, the lights dimmed and an older Suma appeared on stage and, with such grace and beauty, she finished singing her song to us.
Leyma Gbowee, Nobel Peace Prize Winner was present from Liberia and she gave us all a fierce talking to about leaving polite dialogue behind and truly reclaiming our reproductive rights in the United States.  'We have to be our own Gandhis, our own Kings our own Mandelas,"she counseled. She should know, she's fought some extraordinary battles herself to stop women being raped and killed in Liberia during its 14 year civil war and she is credited, with fellow Nobel winner, Ellen Johnson Sirleaf, the President of Liberia, as helping to end this civil war.
Nancy Pelosi seemed to agree about the need to accelerate change when she said "When I became speaker of the house they said I made history. I said 'now that we have made history, we have to make progress'."  Christine Lagarde, head of the International Monetary Fund spoke about "If Lehman Brothers had been a bit more Lehman Sisters…we would not have had the degree of tragedy that we had as a result of what happened."  Seemingly in sync with this sentiment, the next morning The New York Times had a photo of Lagarde and Angela Merkel together on its front cover, reinforcing the powerful role these two women are playing in helping to reshape the global economy.  It was also gratifying to see President Atifete Jahjaga on a Summit panel;  at 37 she is one of the youngest Presidents in the world, and one of the relatively few women who are current Presidents or Prime Ministers.
The deep and immense violence perpetuated against women was brought home by a panel talking about the very particular form of murders of women in Central America and Mexico.  The level of hatred of women expressed in these killings made me feel numb with sadness for a world where such cruelty is perpetuated on the basis of gender.
Among those present from Afghanistan was Afghan provincial council member, Bibi Hokminia, who chooses to dress as a man and whose leadership role in her community was invested in her by her leader father.  Another leader, Imam Demba Diawara , a village chief in Senegal spoke through a translator about his role in stopping women being subject to female genital cutting. While it was great to hear from a strong advocate (who confessed he had previously taken the practice for granted), I still felt angry that we had to be grateful to a male religious leader for his role in something that should never, ever, ever be tolerated. When a wand was offered to women on a panel to individually wish for one thing that would make a difference I would have used that wish for a reconfiguration of the whole world as one that values women and girls as highly as it values men and boys.
In so many of the conversations, the focus was on maintaining current gains as much as seeking to accelerate that progress.  We heard that the Arab Spring could easily turn into the Arab Winter for women who, after democratic reform was underway, were encouraged to go home rather than play an active role and since that time Egypt's revolutionary women have been attacked, jailed and marginalized.
There were many women present whose inventions and inventiveness were recognized at the summit. These included two women who created the sOccket, a soccer ball with a plug in socket to generate a couple of hours of electricity after each game to provide fuel that would allow children to study and eat cooked food.  Talia Leman, at 17 the CEO and Founder of RandomKid.org now oversees a foundation that supports and mentors millions of children around the world who are passionate about improving the lives of others. And Principal Asenath Andrews has made it possible for single mothers to get an education while providing childcare for their babies.  She also creates an environment that is like a second home for these young mothers to feel they have the safety, security and springboard from which to launch their own potentiality.  "She gives me everything," said one young mother present.  "I like to replace their shoes with wings," said Andrews.
Gloria Steinem was there too.  I remember while I was in Botswana in 1995 on an environmental tour, seeing Gloria Steinem and Anne Rockefeller paddling toward us on the Okavango Delta.   While the Beijing Women's Conference was underway, these two women were going from village to village listening to the women share what their needs were to create a better quality of life for themselves and their families.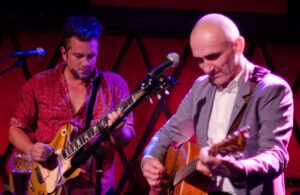 On Friday night, with one day left of the Summit, Josh and I headed to the Rockwood Music Hall to see Australian singer, Paul Kelly, perform.  I was literally skipping in the street, I was so excited to be seeing Kelly perform and Josh was just as happy, though not quite skipping.   We braved the cold with other die-hard supporters as Paul Kelly went by for a walk, giving us a cheery wave as he walked. Josh and I were rewarded for our wait by scooping the two regal seats in the room, perched on a balcony overlooking the stage. The venue itself was small, with only about 35 seats and capacity for 100 though many more must have made it through the door.
Finally Paul Kelly stepped up on stage with his nephew, Dan Kelly, as the last night of a quartet of performances from his A-Z How to Make Gravy book and disc
. Tipped forward above the stage from our eyrie I could even see Kelly's play list as he started singing in the magical intimacy this venue provided.  From the gorgeous Stories of Me and later, To Her Door, Under the Sun and Your Lovin'is On My Mind  I felt so Australian, so connected to the stories and to the melodies, while Dan was given the chance to sing his own song, Bindi Irwin Apocalypse Jam which was so fabulous and original and made us all laugh.
The next morning I was back at Lincoln Center to experience the final day of the Summit.
Women were actively sharing, networking, hatching plans, getting organized.  Madeleine Albright would have been pleased.  The Hon. Jane Harman gave me her card when I told her about the Gender and Development Lab I had conceived and she encouraged me to contact her at the Woodrow Wilson International Center for Scholars, while I gave my card to younger women who were keen to know how to get involved in causes and campaigns that would extend their own skills and participation.
"Even if you don't stand for political office yourself, find another woman to support as until we get a critical mass of women in parliament, not much else is going to change," urged Kah Walla, President of the People's Party of Cameroon. She's right.  In the South Pacific alone women comprise only 1% of seats in national parliaments.
I looked around the theater. There were a few men there but not enough for what we need to be able to see real change for women and girls. I'd hope that next year we'd be welcoming young men from other colleges and not just young women from the women's colleges so that they are also attuned to Secretary Clinton's statement,'Women's Rights are Human Rights.'
Chelsea Clinton was there, moderating a session with young women bloggers and social media activists about how they were using the internet to empower girls. The panel included Noorjahan Akbar from Afghanistan who was creating safe women-only spaces in the country for women to use the internet and to tell their stories. And she joked that she sometimes thought about naming her children after social media.
"What does it mean to be a woman in the world?" Hillary Clinton asked.  She went on to say "It means never giving up, on yourself, your potential, your future. It means getting up, working hard and putting a country or a community on your back." " Be fearless, be committed, be audacious," she encouraged us, as we lifted up out of our seats on wings that had replaced our shoes.
Jane Sloane