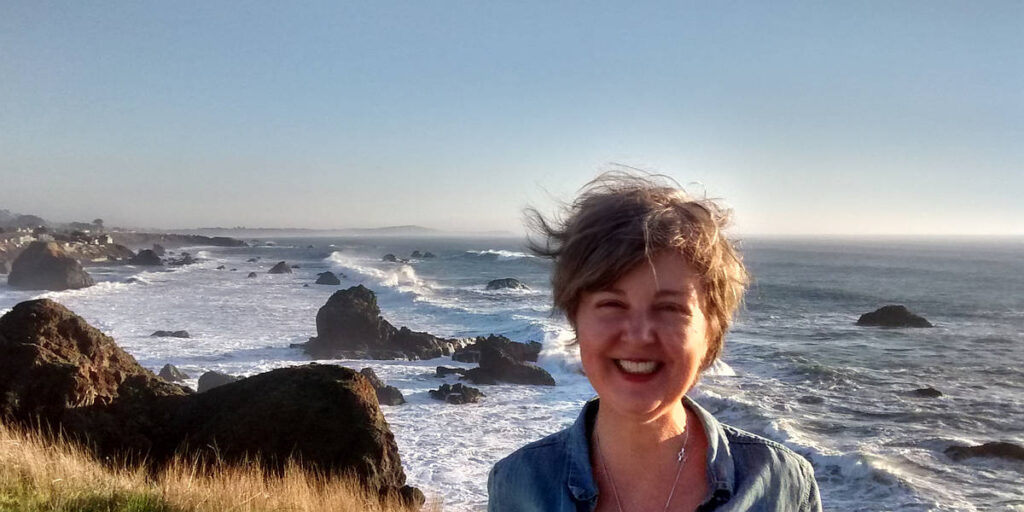 Perhaps it was inevitable that my bohemian self would wend its way to Sausalito and to one of its boat communities. Even more fortunate was finding my heart-boat, which is called Sunrise and has been owned for 26 years by a woman  who comes from a boat building family and grew up in Tahiti.
Many friends have asked me what it's like living on a boat and in Sausalito, so here's my snapshot in response.
My boat is small and snug with porthole windows, so I can see seals popping up when I'm lying in bed. There's a kitchen, desk, bed, shower, toilet and deck and the boat is situated at the end of the pier so I have an uninterrupted view of the bay. I'm also in what's known as the 'banana belt' zone which means that winter sun hits my boat and thus keeps it cozy all year round. From the deck I can also watch the 'anchor outs', those people who live out on the water either due to free rent or free spirit or both. Each day I watch them row ashore, often with their dogs perched on their row boats as they head to land.
Inside 'Sunrise', my books and music and art capture an expression of my love of life and the world. Each day I return to the rhythm of my rocking boat and also to an eternal rhythm of poetic sensibility. My bears – Bear (big) and Boo (small) are my constant companions as we burrow deep through the winter nights. A couple of nights ago I collected a work called 'Remember Who Loves You' from a local artist called Emily Dvorin. It's a basket with sewn squares of vintage fabric each capturing a word in the sentence, Remember Who Loves You. It's a Christmas present to myself and I position the basket on a high perch so I can wake to it each morning.
I have a signed photograph of Pete Seeger performing with Arlo Guthrie in Topanga Canyon next to a small stereo with a cache of music. This is located next to my mermaid shower curtain that affirms each day the singing swimming nature of my being.
I wake at dawn each morning and catch a 6.15am bus to the city. I walk down the boat ramp, past the owners of Nancy Ann Flowers and to the bus that collects us. It's like a luxury tour bus and passengers are asked not to use our cell phones, so the ride becomes a 25-minute meditative sweep around the coastline, over the Golden Gate bridge and delivering us into the financial district of San Francisco.
Often I'll have a breakfast meeting at my favorite café, Caffé Bianco, with Banipal Warda (Bannie), the owner, always ready with a greeting and commentary on the state of the world. It's old style San Francisco here and a safe haven to start the day. The Asia Foundation's office is just a 5-minute walk away with a majestic entrance and doormen who are so welcoming. And so are the staff!  I love the organization, the intelligence and integrity of my colleagues and my role in advancing women's human rights and gender equality in Asia.
Usually I'll catch the ferry home and so I'll walk 15 minutes to the ferry building and then ride what's been called the prettiest ferry ride in the world. Feels about right. I get on that ferry and already feel a million miles from the issues of the day. It's like the bay air and wavy ride rock you into a different world. There's always a queue of people waiting to get on the ferry once we disembark in Sausalito, including many people with bikes who have ridden across the Golden Gate Bridge and catch the ferry back to San Francisco. From the ferry it's an easy 10-minute walk back to my boat. Sometimes I'll have a meeting at Taste of Rome, a café that has great live music most nights. Most days I'll stop by Drivers Market, an organic market created by Adam Driver and business partner, Paul Geffner, and which has wonderful staff and delicious food and conversations.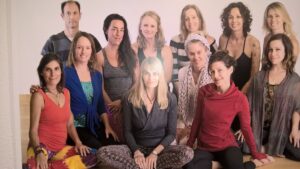 Just 5 minutes from my boat is Yoga of Sausalito, where I go to restorative yoga classes on Friday nights and as often as I can during the week. Once a month the restorative yoga session includes a musician playing didgeridoo over us while we do relaxing poses. For me the didj sound evokes a primal connection to Australia, indigenous culture, land and spirit. Five minutes down the road is Soulstice Spa where I have a regular massage and go to meditation classes and which is owned by the wonderful Kayse who does so much to build community in Sausalito. Kayse's now inviting some of us to speak at a regular Sausalito event series to connect great work and ideas to new audiences.
Across the road from Soulstice Spa is Sausalito Library, my favorite hangout place on the weekend due to the brilliant collection of books to borrow, the comfy chairs and spaces to occupy and also the intentional community created by the Library Manager, Abbot Chambers. There's a regular speaker series featuring local authors and filmmakers, often presented in conjunction with the Sausalito Historical Society. Films such as 'The Houseboat Wars' that depicts the fight that boat bohemians took on against local and state government trying to claim back the water territory the boat people occupied. It's a riveting documentary, made more so by the fact that the bohemians won! We now have protected spaces to occupy.
Other documentaries include 'Sausalito after the Bridge' that depicts life in Sausalito before and after the Golden Gate bridge was built. Then there's the documentary on Alan Watts, 'Why Not Now?', from when the activist writer lived in Sausalito, and we also have a regular 'Alan Watts Study Group meeting at the library with over 80 members. We also have other locals sharing their work, such as a couple who run a program called 'The Kindness Project' where they commit random acts of kindness each day, such as showing up in a rough neighborhood with an espresso machine and handing out free coffee for a day.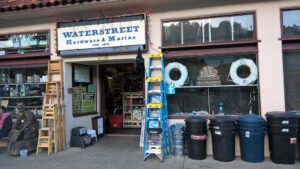 Heading home from the library I often stop into Waterstreet Hardware and Marine, owned by great guys who know their stuff and where I get my buckets, torches, equipment and gadgets for the boat. Living on a boat also inspires me to live simply. You don't have a lot of room on a small boat, so whenever I buy something, I choose what I'm going to let go and then I'll leave it on the communal boat bench. Over time I feel like I'm choosing to give more things away more often, rather than just when I buy something. I also like arranging them artistically and creating beauty with the colors and textures of items I leave on the bench. It feels like a kinetic act and I feel light and free each time I do this.
Christmas time is always special in Sausalito. One of my favorite rituals is the lighted boat parade where owners decorate their boats with lights and sparkly bits and sail them across the bay, right near my boat. The dark sky and water is a fitting backdrop and float foundation for the musical procession of boats that glide across the bay. It's enchanting and wondrous.
Another night I take myself to Grace Cathedral and, from my front row seat, I experience the magic of Handel's Messiah in the glory of performance by American Bach Soloists. Perched high on the hill in Sausalito is Christ Church, the Episcopal church where Jerry Garcia from the Grateful Dead married Deborah Koons on Valentine's Day 1994. I love this little church, the rector, Fr. Chip Barker Larrimore, and the congregation who come together in community. On Christmas Eve there's an organ recital followed by carol singing and then Midnight Mass. Toward the end of the service the church lights are switched off and we light each other's candles as we sing 'Silent Night' before ending the service with 'Joy to the World'. I carefully carry my candle all the way down the dark windy road to my boat, a flame torch to light the way. It feels like a spiritual act, and guide. I ring my parents and aunts on Christmas Day in Australia, and anticipate seeing my brother in a couple of weeks.
On Christmas Day I have a glorious time with my Sausalito family, Ariel, Sam, Juniper, Carol and Robert. We dance and sing with Juniper, who is one year and ten months old and whom I adore and love to eternity, and then Sam serves up a truly divine Ethiopian feast for all of us before we make more music together and have wicked treats for dessert. It couldn't be more perfect. Ariel and Sam give me some photos they've taken of Juniper and on return to my boat I light a candle to Juni-bird, gorgeous girl in the world, as I position one of the pics of her inside a mini wooden boat on my table.
Beyond Sausalito lie the Muir Woods, the poetic coastline and my most favorite bookshop, Point Reyes Books, owned by Kate Levinson and Steve Costa. You can reach Pt Reyes on the Marin Stagecoach, a magical mystery ride bus with any number of fascinating passengers, from people living in the woods or on the water, to surfers to park rangers. After a donor event near Pt Reyes Books, I step in to a candlelit poetry night where Kate begins with Wendell Berry's "To Know the Dark"
To go in the dark with a light is to know the light.
To know the dark, go dark. Go without sight,
and find that the dark, too, blooms and sings,
and is traveled by dark feet and dark wing
The bookstore is lit by tiny candles and local poets read their works, funny, poignant, fiery and beautiful. We listen as 'Our highest glowing selves', as one poet described it.
The night ends as it began, in silence, and in the dark as Steve read a final poem, fittingly from Wendell Berry, "The Peace of Wild Things"
When despair for the world grows in me
and I wake in the night at the least sound
in fear of what my life and my children's lives may be.
I go and lie down where the wood drake
rests in his beauty on the water, and the great heron feeds.
I come into the peace of wild things
who do not tax their lives with forethought
of grief. I come into the presence of still water.
And I feel above me the day-blind stars
waiting with their light. For a time
I rest in the grace of the world, and am free.
And so from this joyful perch in the world, I send an exuberant embrace of life, nature, community, stars and sea to all on the eve of a New Year.
Jane Sloane
Sausalito / San Francisco / The World