I woke up on Saturday morning to news of the devastating earthquake in Nepal and in Northern India, which has already resulted in almost 2,000  over 4000 deaths, with the final death toll predicted to be much higher once the recovery effort gains momentum.
I've been watching the media commentary and have been thinking about how we need to do more to lift up the voices and images of women to ensure that aid is being directed in ways that benefit women and girls, as well as men and boys.
The leadership contribution of Nepalese and Indian women to the relief effort, and in the longer term rehabilitation process, will be central to ensuring that decisions made take into account the needs and reality of women's lives in all their dimensions. This includes as pregnant women, mothers, carers, peace-makers, educators, workers and human rights activists. Their role will also be vital in ensuring that the gains already made in advancing gender equality aren't eroded.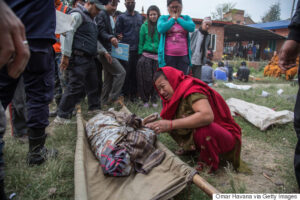 While women are at the frontline of disaster impact and response due to their role in looking after their children, elders and community members, they are often excluded from decision-making about where to direct resources for both the immediate and long term recovery effort. We need to be clear that disaster response is a gender issue and we need to recognize and act on this.
Previous disasters have disproportionately affected women. In the Bangladesh cyclone, among women aged 20-44, the death rate was 71 per 1,000 compared to 15 per thousand for men and in the Asian Tsunami, in the most affected areas of Indonesia, for every man who died, four women died for reasons such as women and girls didn't know how to swim or climb trees and didn't feel they could leave their homes, or waited until other family members were safe.
While many women are focused on ensuring their family is safe and finding food and water for their children and elders in the aftermath of a disaster, they are also best placed to advise what kind of disaster aid would be most useful and best located. Women in rural areas, as well as city hubs, need to be consulted since it is often those located in rural and remote locations who suffer the most and have the greatest to contribute in terms of where water, food and health supplies should be directed and what kind of shelter and trauma support is most useful.
Where I work, at Global Fund for Women, our focus is on supporting our grantee partners to maintain their base and sustain their work during a crisis when they are facing immense challenges. In Nepal, this includes grantee partners such as Tewa, a women's fund that provides money to women's organizations in rural Nepal to support women's empowerment, leadership and decision-making.
Another grantee partner, Women Development Society (WODES) provides skills training, education, and income generation for women's economic empowerment and works to empower women through awareness raising and action so they can participate in development and political processes. WODES has a membership of over 500 women from different ethnic minorities, farming communities, blacksmith (low) caste families, and conflict zones, as well as women sweepers and tailors.
Nagarik Aawaz (NA), meaning "Voice of the Citizen" is focused on protecting and advancing the rights of women and girls, including giving women training in conflict resolution, providing support for women's relief efforts in affected areas and facilitating their peace building activities in addressing individual and institutional violence.
Jagaran Nepal is working to empower young women's leadership and political participation and to create a critical mass for the promotion of peace and governance in Nepal.
Women for Human Rights works for the socio-cultural, economic and political rights of single women (widows) in Nepal who face deep and sustained discrimination. Currently, the organization's membership base consists of 45,000 single women, mostly under the age of 45, organized into 325 groups.
These grantee partners, and many others supported by Global Fund, work to ensure that women's views and voices are heard. This includes access to social media forums, once access to technology is possible, to advocate for what's needed and to pivot as necessary to direct attention to where it's most needed during the crisis, including protection from violence.
It also means advocating for the kind of infrastructure (transport, technology, health systems) that will allow women to attend to immediate needs and to participate in decisions that will ensure that women's human rights are a central tenet of the disaster response and rehabilitation efforts. This includes land rights for women, full mobility, access to sexual and reproductive health services, to maternal health and to trauma and mental health treatment. It also includes freedom from violence, particularly for those most affected such as women with disabilities, LGBTQI communities and those living in remote locations.
Women need to be supported to address the immediate needs of children and families during this recovery effort in Nepal so that they are not excluded from wider decision-making that will have a greater impact on women's lives in the long term if women's perspectives are not sought and heard. Paid roles for women in the recovery effort are also important so that it is not men who predominantly benefit from jobs such as construction, leaving women to assume an increasing caretaking role that is unpaid and that further exacerbates her poverty and exclusion from decision-making.
There are important roles for women's groups in outreach to those most affected such as training women to deal with disease control, malnutrition, food shortages, trauma response, revival of the land and crop production and restoration of local marketplaces for immediate income.
While the impacts of a natural disaster are devastating, there is the opportunity for women's groups to highlight the level of gender inequality and work for the needed legal, economic, and social change to address this inequality.
It's this time of post-disaster recovery and rehabilitation that holds the greatest potential for women's groups to maintain the momentum for women's empowerment and gender equality, and ensure that further gains for women and girls are won and not lost.
For those of you who want to donate, or let others know what they can do to help, the donation page for Global Fund For Women is here

This week I'll be heading to the inaugural It's Time 2015: The Partnership Summit to Elevate Women's Leadership in Baltimore with over 600 people attending, and thousands more tuning in by remote through viewing parties and other means. The event is the launch of an It's Time Network representing a diverse community of women and men working to achieve gender equality and social justice. I'll be speaking at the event and leading a two hour session focused on women's peace and security, ending gender based violence and engaging religious and faith leaders in addressing gender equality.
Delegates to this Summit will be arriving in Baltimore at a time when the community is hurting so much from the death of Freddie Gray, a 25-year old black man who suffered a spinal cord injury in police custody before dying before medical aid arrived. Six Baltimore police officers were suspended while a criminal investigation is underway.
While thousands have protested peacefully carrying signs saying "All night, all day, we're gonna fight for Freddie Gray", a breakaway group became violent and resulted in arrests by police in riot gear. Mayor Stephanie Rawlings-Blake and Police Commissioner, Anthony Batts, both African Americans, are working to address the issues against a history of tense relations between police and black residents. However, sustained community outrage has created a tinderbox situation in the face of other black deaths in custody in Ferguson and New York, and the call for justice is rising.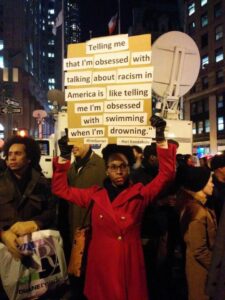 The Black Lives Matter campaign directs a blowtorch on a system that continues to normalize the killing of black people, just as it calls for a commitment to justice and racial equality, including for a police system that honors black lives.
At such a time, arriving as outsiders to participate in a conference in a city that is a powder keg of racial tension requires us to be attuned to the environment we're entering.  This is a situation that has the potential to ignite nationally in the streets, as much as it already has in the consciousness of so many people across the United States. It's a time when we're called on to think deeply about our own attitudes to race, personally and collectively, as well as to conflict and its resolution.
When violence erupted on the streets of Baltimore after the assassination of Martin Luther King Jnr, in April 1968, it was a woman called Professor Jessica Elfenbein who conceived the idea of fusing art and conflict resolution practices in a bold initiative designed to support the collective healing of a community.
Professor Elfenbein, director of the University of Baltimore's Community Studies and Civic Engagement program, secured support from her colleagues to bring together historians, academics, oral history practitioners, those skilled in conflict resolution and artists in a variety of disciplines to create an oral history project.
As is detailed in The Christian Science Monitor, students were sent into the community to capture commentary from over 100 people who witnessed the conflict and could give their own citizen testimony. The power of these stories, the power of witness, began the long journey of a community coming to terms with what happened, to build trust and seek forgiveness. It seems it's time for this work to be renewed in concert with the process of institutional reform to bridge the divide and realize justice.
Bridges loom large in race relations. In the United States, Selma and the walk across the Edmund Pettus Bridge to Montgomery, comes to mind as a seminal moment in the movement for civil rights. In Australia, I think of the deeply symbolic walk by 250,000 people walking across Sydney Harbor Bridge, and many more walking across other bridges, as a powerful commitment to reconciliation between Indigenous and non-Indigenous Australians. Bridging the arc of history in Baltimore, from decades of racial injustice to a new way of living and acting that gives meaning to the phrase, Black Lives Matter, is vital. For all of us, and for our humanity, not just for black people. In the same way, gender justice is not just for women, it is for people of all genders to be empowered to fully live as we would choose.
[symple_testimonial by="Senator, John R Lewis, Civil Rights Leader" fade_in="false"]We have come a long way in America because of Martin Luther King, Jr. He led a disciplined, nonviolent revolution under the rule of law, a revolution of values, a revolution of ideas. We've come a long way, but we still have a distance to go before all of our citizens embrace the idea of a truly interracial democracy, what I like to call the Beloved Community, a nation at peace with itself.[/symple_testimonial]
I'm thinking, too, about what a transformed world would look like. And, in my mind, what we are working toward here is for a person of any gender to be able to walk down her street, whether in a village in Mali or right here in Baltimore, and feel safe. For her to know that her views and leadership will be sought when there is a crisis or a disaster. To know that she is in full control of her body, and of decisions she wants to make about her body.
That she can be comfortable in her skin and express her sexual identity in any way she chooses without feeling challenged or at risk. That she can get an education and a job where she knows her salary will equal to that of a man's for similar work and that her voice will be heard in her home, community and in public and political spaces.
And that the men in her life are able to express their full range of emotions, and to feel free and expansive rather than restricted by an idea of masculinity that does not feel true. Where people of every gender are able to use their conflict resolving skills to advance us along the arc of history — toward justice.
Jane Sloane
San Francisco