---
Print/Web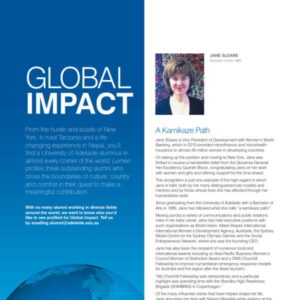 JANE SLOANE  Bachelor of Arts 1985
A Kamikaze Path
Jane Sloane is Vice President of Development with Women's World Banking, which in 2010 provided microfinance and microhealth insurance to almost 26 million women in developing countries….
Download PDF (article is on pg 18)
Australian Financial Review BOSS magazine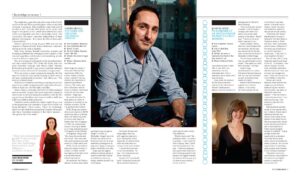 April 12 2012 by Hannah Tattersall (pg 19)
Aussie Infusion
Jane Sloane – VP of Development, Women's World Banking
Area of expertise: financial services
Lives in: Manhattan (since 2011)
Relishes: the sense of community she's found in New York, despite its size
Misses: friends and family
Jane Sloane arrived in New York in July 2011 in a wheelchair, one foot dislocated after a fall in Indonesia. By no means did it slow her down. It was quite the entrance for the former executive director of the International Women's Development Agency, now vice­ president of development for Women's World Banking.
"Even arriving with my foot in plaster, I had to create a strategic plan within four weeks, recruit new staff, present to the board," Sloane says. "There's no let up in what's expected of you."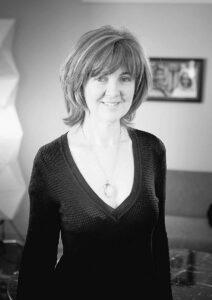 Sloane's partner lives in New York, which helped with her transition, but she was also warmed by the friendly, open community she found in Manhattan's West Village.
"You're doing everything on foot, you get to speak to more people. That makes you really feel connected," she says.
Sloane's blog, janeintheworld.com, allows friends and family to keep up with her, and lets her reflect on work and extraordinary people she meets.
Women's World Banking is a global micro­finance network. It has served 26 million people, 80 per cent of whom have been women. It provides micro­ finance, health insurance and leadership support to help people escape poverty.
"I had time with Nelson Mandela [when he was in Sydney for the What Makes a Champion event in 2000] who said, 'Jane, if you really want to make a difference in the world, you should focus on conflict resolution'," Sloane says. "I feel like I'm now living that life here."
She has been able to bring Australian systems and ideas to the US. "In Australia, I was used to having a risk and
audit committee associated with the board and I was used to doing risk management plans – that's not the norm in a lot of NGOs in New York."
Sloane, who counts Malcolm Fraser and the late indigenous poet Roberta Sykes among her mentors over the years, now leans on Australia's alumni for support. "I feel like I have a community around me. I can reach out and say, 'How would you deal with this situation?' "
Working abroad provides access to new opportunities, too. In March, Sloane heard Madeleine Albright and Hillary Clinton speak at the Women in the World Forum. She encourages other women to aim tall and would love to see Clinton's Women in Public Service program brought to Australia.
"It gives younger women the opportunity to understand from older women what public service and leadership mean in practice. You can see opportunities for extending great projects and initiatives in this country to Australia."
"Globalism is as much about how you see yourself in the world as any tangible product or opportunity."
April 12 2012  AFRBOSS.com.au pg19
---
Videos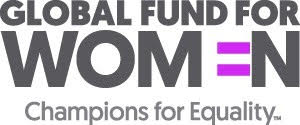 Please join me for a webinar I'm co-presenting with my colleague, Zahra Vieneuve on the vital role of women's rights groups in responding to crises in the Middle East, including the refugee crisis and working for peace and security in the region.
Zahra and I will be sharing the stories, strategies and solutions of women's human rights activists and movements in the Middle East.
The webinar  will be on Feb 10, 2016 at 12:00 PM PST. ( that's Thu, Feb 11, 2016 from 7:00 AM – 8:00 AM AEDT for those of you in Australia )

also @ Vimeo http://vimeo.com/41441241
---
IWDA / One Just World
How Women Can Change the World (and How Men Can Help)
On Wednesday March 10, 2010, One Just World brought together over 500 people to explore How Women Can Change the World (and How Men Can Help). International Women's Day comes at an important time this year as, with only five years to go until 2015, there is still an enormous amount to do to reach the Millennium Development Goal of gender equality and empowering women.

Hilary Charlesworth AM (internationally renowned commentator on international law and human rights) and Dr Helen Szoke (Commissioner, Victorian Equal Opportunity and Human Rights Commission) joined Jane Sloane (Executive Director of IWDA) at this forum.

http://www.iwda.org.au/2010/03/11/how-women-can-change-the-world/#Videos

---
Other
Advance Awards April 2012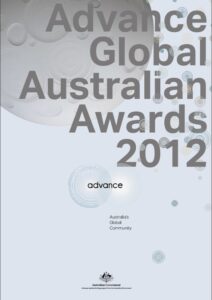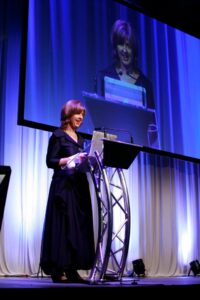 Australians Abroad Speak Out: What Issues Should We Be Talking About this Election?  Feb 9 2013
http://advance.org/articles/federal-election-2013/