My colleague, Whitney, and I are walking up seemingly hundreds of steps to the 2,600-year-old Shwedagon Pagoda. This is the most sacred Buddhist pagoda in Myanmar, as it's adorned with 27 metric tons of gold leaf, along with thousands of diamonds and other gems, and is believed to enshrine eight hairs of the Gautama Buddha as well as relics of three former buddhas.
At the bottom of the stairs to the pagoda I collect from a woman at a street stall an armful of gorgeously scented roses and then at the top of the stairs I'm stopped by a guard who places a wrap-around sarong on my dress to cover the bare flesh of my legs. Then suddenly we're in the pagoda in the twilight of the night and the warm glow of lit candles and chanting.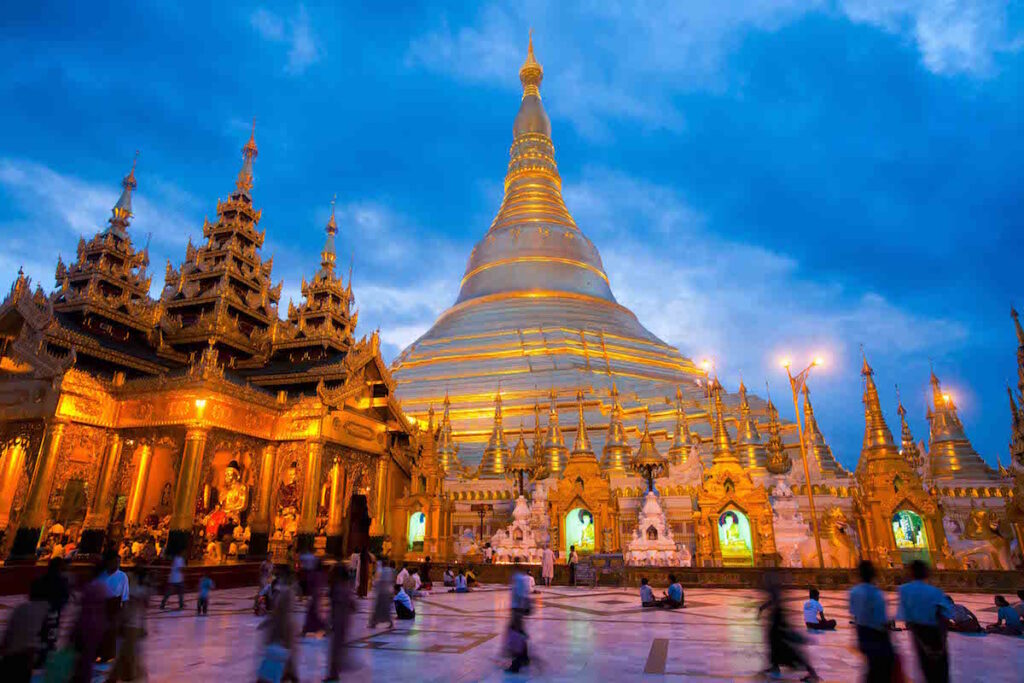 People come up and touch our faces, want to  practice their English and snap selfies with us. Monks are walking in their robes, people are making offerings, some are gazing skyward to the top of the stupa. There's grace and beauty all around and I feel great lightness being here. I'm reminded of the words of Aldous Huxley in his book, Island
'Lightly child, lightly. Learn to do everything lightly.
Yes, feel lightly even though you're feeling deeply.
Just lightly let things happen and lightly cope with them.'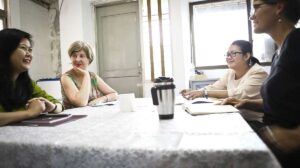 The next morning our meetings begin. We meet our colleague, Mi Ki who has organized our meetings and has just a deep feeling for the country and people. Mi Ki is such a gorgeous presence – and her interpreting skills and insights prove invaluable for us.
She escorts us to a meeting with a former parliamentarian from Yangon who was in office for five years until 2016. Now this former parliamentarian is training hundreds of women to support them as candidates for political office at local and national levels. "I trained more than 300 women candidates from different backgrounds and 32 won elections. I'm training women candidates from across party spectrum and women are free to join our trainings however many women unable to join due to pressure from families and local leaders.'
We hear from this former political representative that women comprise 14.5% of all elected Members of Parliament and that the real reform needs to come within The National League for Democracy (NLD) as the governing party and the dominant political force. Beyond getting more women elected as candidates, women also need to be better supported in political office. As she says, "women are often pressured not to speak in Parliament and I don't see much progress. Political parties track how often women speak to media and monitor their social media. Women are increasingly conscious of the gender divide and there's even a political party called the More Women Party that was founded three years ago but it's had little traction to date."
When we meet with an independent researcher focused on women's political participation in Myanmar, he says that the first past the post electoral system means that the NLD is going to continue to dominate while this system is in place. This means the major reform needs to be in this party, which is extremely top down in structure and governed by a central executive committee. The researcher observes that at the last election the number of women securing political office doubled however this still only means 14% of women in parliament.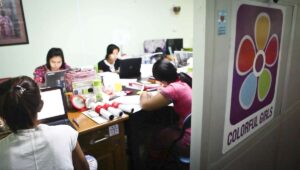 One of the main reasons for our traveling to Myanmar is to film the Colorful Girls of Burma. We're also here to extend an invitation to the organization to accept a Lotus Leadership Award at The Asia Foundation's Gala in San Francisco in October this year.
I was last in Myanmar over four years ago when I first visited the Colorful Girls of Burma. At that time, I met Nant Thazin Min, a Karen woman and community activist who founded the organization in 2008 with several teenage girls in her neighborhood. While giving the girls free English lessons, Thazin learnt of their struggles at home, in school, in their communities including the violence they experienced, pressure to drop out of school, lack of recognition of their talents, harsh restrictions on their movement and associations.
Colorful Girls evolved as a safe forum for girls to share their personal experiences in an environment where they can build their self-esteem and confidence. Today the organization provides leadership programs for girls ages 13-18 to help them to be strong advocates to end violence and human trafficking and for girls to tap their creativity and leadership potential. The girls chose the name Colorful Girls to reflect the diverse and multi-ethnic makeup of the organization.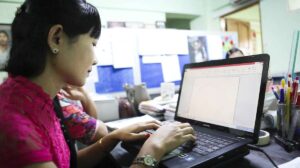 Whitney, Mi Ki, and I climb the stairs to offices. The door opens to a riot of color, laughter and activity. Girls, mothers, other adults all working on various projects and planning activities. These girls belong to an active network of girls where information, ideas, support and action is abundant.
This is informed by a belief that bringing girls to the fore will raise the overall status of girls and women in communities and a society where military men, businessmen and monks currently hold most decision-making power. As the only organization dedicated exclusively to girls, the organization also works with community leaders and NGO's to support girls' leadership and personal growth.
Several thousand girls have undertaken leadership training since the group began and the plan is to take the training nation-wide in the time ahead. We film an interview with Ma Thazin and after that, Whitney gets permission to accompany one of the girls, full of energy and spunk, home to her village.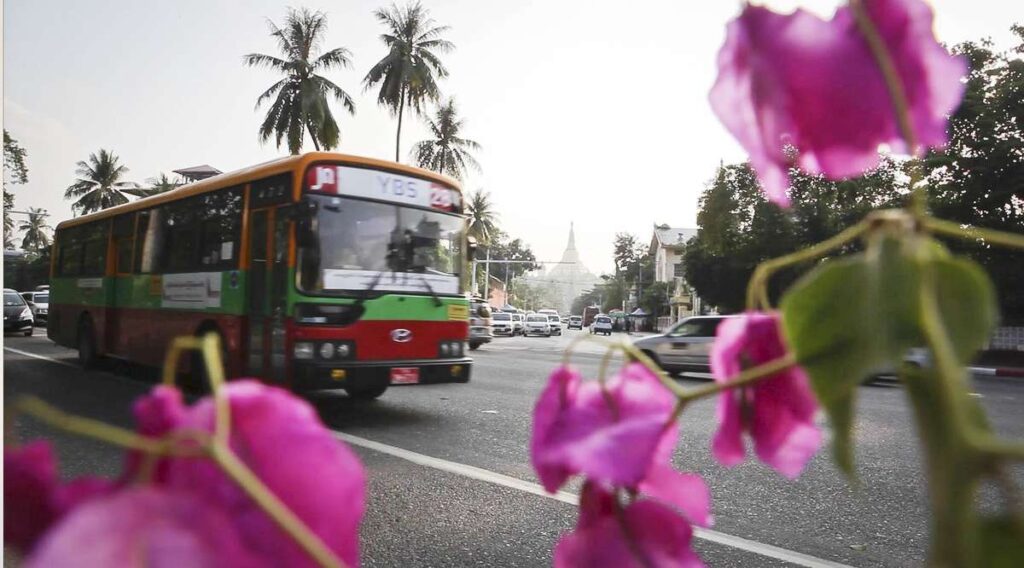 Then Mi Ki and I head out to visit Phan Tee Eain, which means Creative Home in English. The group was established 2009 and in 2010 it began observation and research on women's political participation and noted the low levels of participation by women. In 2012 it secured funding for a Women Lead program to undertake training with political parties to increase women's political participation. The women in the group sought to address a political culture that embeds men as leaders and to build on the slight progress re women being given a place in political parties. It's challenging work since the overwhelming population have more trust in men than in women, especially in rural areas.
One of the members from Phan Tee Eain shares with us, "It's particularly difficult to change mindset of ethnic women – we must go through the men to influence the women," says one of the members. When I ask what the group most needs, they respond "We need more core funding as most funding is project based and it's difficult to sustain staff. We want to focus on three areas: women's political participation; women, peace and security; women's leadership and voice."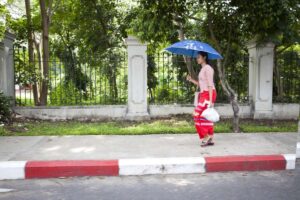 We shift focus from women working to get more women into political office to spend time with a Burmese labor rights activist who has spent her life working for justice. This woman invites us into her home where we sit with her to hear her story. Near to me is a photo of two people – a man with a clear-eyed gaze and a very beautiful woman staring out at the camera. These are her revolutionary parents and this is her story.
"We had a lot of women leaders before the British came. My mother died of an abortion when I was t Ki? hree years' old. My father brought me up to read and then discuss what I had read. Then he encouraged me to join debates with his friends to sharpen her debating skills. My father began using arts and advocacy in Mandalay and then in 1974 my father's friends were captured by Burmese police and sentenced to life in Cocos Islands. So, my father told friends he was taking me on a vacation and we escaped to Yangon.
"We continued to read political books and formed strong political networks until my father was arrested and then badly tortured and beaten in prison because of participating in social movement action- going to villages, distributing pamphlets and encouraging political action. In 1989 I was captured by police and sentenced to three years' jail. It was here that I met with many women politicians, with many focusing on labor issues. I was then in and out of jail for many years and my father died while I was in jail.
"Women's participation started again with CEDAW (The Convention on the Elimination of all Forms of Discrimination Against Women) however there's a level of passivity among women that we're trying to address. We're focused on advocating for women's human rights including ending violence against women, including ending forced labor and ending trafficking. This includes trafficking of children's body organs which is increasing. Women are also playing a role in the trafficking of other women – while in jail met a woman who had trafficked more than 100 women. She was trafficked herself and knew the business so well that she became a trafficker."
"There were protests by garment workers in 2013 against violence and forced labor. My organization helped get more than 2,000 women workers back to Myanmar from countries such as Jordan and then committed to help women workers in other countries. This included attending key conferences on labor law and legal rights. It's important for women to know about CEDAW and to work with labor unions and their members re women's rights, children's rights and association law.
"I've followed my father's political path of advocacy and activism. It all began with him teaching me how to read, and how to think for myself."
While we're having tea in a gorgeous tea ceremony, I keep looking at the photo of her parents, so alive to the possibilities in life and to the extraordinary beauty of her mother. I want her mother's vivid story to be told and to be carried on the dream of her parents' vision for the country and their own life before it ended prematurely due to not getting the right medical support and attention in time.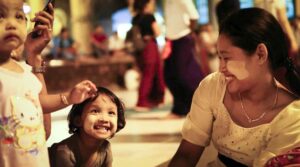 Late afternoon, heading back to my hotel, we pass the Shwedagon Pagoda and I watch as people stream up the steps. Golden light infuses people and place as I watch transfixed.
Satish Kumar, editor of one of my favorite magazines, Resurgence, affirms the precious role of sacred spaces when he says "We have to recognize the magnetic value of a particular space and to approach the ultimate through the intimate."
The next morning Whitney and I depart Myanmar and fly into Bangkok. We skid across the airport to find our small plane to Laos. A new journey is about to begin.
Jane Sloane
Myanmar
There must be, not a balance of power, but a community of power; not organized rivalries, but an organized common peace.
President Josiah Edward "Jed" Bartlet quoting Woodrow Wilson in the West Wing
All photos by Whitney Legge ( except the Shwedagon Pagoda photo)