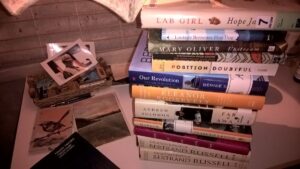 Reading is my great love, matched only by sharing these books, whether it's by passing them on to others or telling friends about the stories I've read. I'm curious about so much in life and reading both satisfies and fuels this curiosity.
Perhaps that's why my taste is so eclectic – it's a response to the messiness of life. I pivot equally to fiction and non-fiction in both wanting to answer the 'why's and 'how's as much as wanting to be entranced by a story well told. I'm drawn to the feeling of being carried away and I also love standing on the shoulders of giants, figuratively speaking, and appreciating new perspectives on the world.And of course being up close and personal with others whose view is from the ground or from the margins.
What I've Been Reading Last Month
Eleanor Roosevelt: The War Years and After by Blanche Wiesen Cook is as good as it gets.  For anyone fascinated by the life and impact of Eleanor Roosevelt, and how to influence social change at the highest levels, this book is the one. Wiesen Cook is a superb biographer and this book is the last in her trilogy on Roosevelt, and arguably the most compelling.
I picked up a copy of My Name is Lucy Barton by Elizabeth Strout from my local library, a slender book exquisite in its spare writing. It captures what happens when Lucy Barton is in hospital away from her husband and two daughters and her mother, from whom she has been estranged for years comes to visit.  Lucy Barton's unsentimental telling of her time with her mother is both heartbreaking and hopeful – I found myself putting the book down several times to just think. It's such a human book, in these times of fast paced everything. One to slow down with and contemplate.
Hillbilly Elegy: A Memoir of a Family and Culture in Crisis by JD Vance has been much written about and it's worth reading, if only to clarify your own beliefs about what causes and sustains poverty, and what helps people break out of this cycle.
As a counterpoint, pick up a copy of The Book of Joy, a conversation between two of the great teachers of our time, His Holiness Dalai Lama and Archbishop Desmond Tutu about how to manifest joy and deal with pain and stress. It's a guide to living with hope and purpose.
The Watch at Peaked Hill: Outer Cape Cod Dune Shack Life, 1953–2003 by Josephine Breen Del Deo is worth buying for the gorgeousness of the cover as much as the beautifully told story within. It's a poetic memoir of those living in the shacks closest to the shore in Cape Cod and the battle to maintain the right to sustain this life. For me, living on a small boat in Sausalito, it's a tale by kinfolk living simply, close to nature and a love story and hymn to the beauty and inspiration of Provincetown.
Not surprising then, that I should also have read Upstream: Selected Essays by Mary Oliver, still one of my favorite poets, together with Wendell Berry and Australian poet, Gwen Harwood (her books, Poems and Poems Volume II are out of print and worth tracking down).
My hippy spirit couldn't resist reading Small Town Talk: Bob Dylan, the Band, Van Morrison, Janis Joplin, Jimi Hendrix & Friends in the Wild Years of Woodstock by Barney Hoskyns. It's evocative and captures the spirit of Woodstock and the complex web of relationships and events that informed that time.
When We Rise: My Life in the Movement by Cleve Jones captures the incredible movement for LGBT rights in 1970s San Francisco, the relentless impact of AIDS and Jones' co-founding of the San Francisco AIDS Foundation and AIDS Memorial Quilt. Jones is also a superb story teller and captures the ferment, friends, fun, fury and fire of this period.
I also loved Lab Girl by Hope Jahren who writes of the sanctuary she found in science and friendship with an unlikely kindred spirit. She's a terrific storyteller and it's an absorbing read.
Finally, Moonglow by Michael Chabon is a book for all of us moon lovers and members of the dark sky movement, loving the darkness and those buttery yellow moons.
More next month…
Jane Sloane
San Francisco