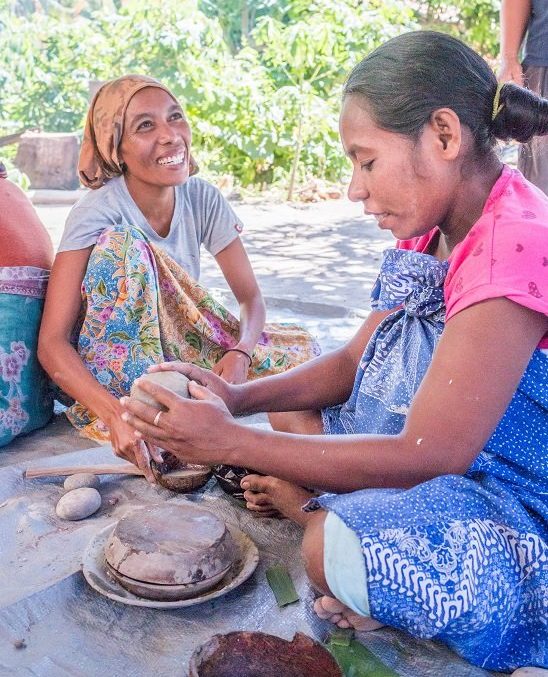 After a long plane flight, and after too many years of almost getting here, I finally land in Dili, capital of Timor Leste. Stepping off the plane, I feel such emotion as I remember my friend, Harry Burton, who wrote of his arriving here to open the first Reuters office just before a newly independent Timor Leste was declared, and who was later killed in an ambush by insurgents in Afghanistan.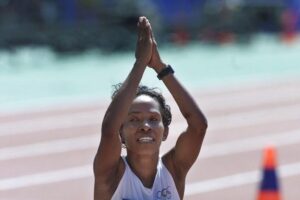 I remember, too, welcoming the first Olympic team of a newly independent Timor Leste when I was managing one of the media centers for the Sydney 2000 Olympic Games. Andrea Bocelli sang to us in the Green Room while the Timorese athletes spoke of training with bags of rocks in the absence of any training equipment. A team of four Timorese athletes took part in the Opening Ceremony in Sydney including marathoner Aguida Fatima Amaral as the only woman in the team. The Olympic flag was carried by boxer Victor Ramos. "I was happy to carry that Olympic flag into the stadium,'' he said. "But I carry my nation and my flag in my heart."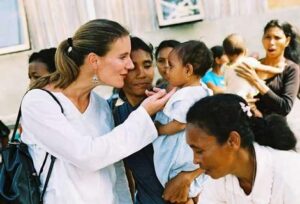 I remember hearing Xanana Gusmao, the first President of Timor Leste speak in Sydney. The room was filled with emotion as he spoke of what it meant to be living in and leading a newly independent nation. And then Kirsty Sword Gusmao, his wife, spoke as she held their baby son in her arms. Her courage, commitment and humanity was so evident, a sign of all that was ahead including her creating the Alola Foundation.
And I remember the women's group we funded when I was Executive Director of International Women's Development Agency – they bought a truck to drive round the country using theater to help educate and engage communities on breaking the cycle of domestic violence in the country.
I'm welcomed at the airport by Susan Marx, The Asia Foundation's dynamic country representative responsible for managing the foundation's work here. (You can follow Susan on twitter @ TAFRepTimor)
We travel to Pradet, one of the community partners in an important program funded by the Australian Government called The Nabilan: Ending Violence Against Women program as an eight-year intervention aimed at reducing the number of women who have experienced violence, and improving well-being for women and children who have been affected by violence.  In developing the program, The Asia Foundation undertook a baseline survey of over 1400 women and 800 men and, of those surveyed, 59 percent of women aged 15-49 in Timor-Leste have experienced physical or sexual violence from an intimate partner in their lifetime, and 47 percent in the 12 months before the interview.
This confirms the urgent need for sensitive, women-centered services, free of stigma, that address the physical as well as mental health needs of women, and also of children who have experienced or witnessed violence in the home. Nabilan supports local partners to increase the quality and reach of services for women and children affected by violence.
When we arrive at Pradet we're greeted by local staff including  Manuel dos Santos, PRADET Director, Luisa Reis Marcel, the Coordinator of Fatin Hakmatek and Susan Kendall AM, an Australian social worker who has worked as International Mentor with PRADET since 2002, visiting three times every year for approximately 5-6 months to help sustain the momentum of the program.  Susan reminds me of a humanitarian Lucille Ball in her sassiness and willingness to shake things up in order to secure both funds and justice.
PRADET stands for Psychosocial Recovery and Development in East Timor and the organization provides quality services and psychosocial support to people who experience domestic violence, trauma, sexual assault, child abuse, abandonment, imprisonment and human trafficking, and people living with mental illness in Timor Leste. We hear cases of women who have been incarcerated due to defending themselves from rape and also from miscarriage cast as murder due to leaving the dirt track site of the miscarriage and consequently being jailed for years.
The program works toward long term institutional and behavioral change including working on prevention, services including psychosocial and forensic evidence, and access to justice. This aligns with the national government's own holistic framework – the National Action Plan on Gender-based Violence. Nabilan cooperates with government, and civil society organizations, and is now developing its work at the community level, which will link prevention and access to support.
In this context, building a movement of women and men working to end violence against women and standing in solidarity with those who come forward is so important.
While women occupy 38 percent of seats in parliament in Timor-Leste, women's engagement is very low at a rural level, with women only accounting for 2 percent of local leaders. In the countryside, women do most of the agricultural work and much of their work is unpaid.  Women rise early, gather the family's daily water, light fires, cook meals, look after their children and prepare them for school, clean the house, work in the fields and then continue to cook and clean into the night.  In such circumstances time for political representation or any other form of activity has to be fitted in late in the evening, or in rare time off.  
On average, Timorese women have six children, and almost 20 percent of girls are married by 18. Here the groom's family may pay the young woman's family in gold, silver or cows, in a way that suggests they are purchasing the young woman. Early marriage further isolates these young women from the opportunity to play an active role in the community and to gain the education and opportunities that will help them realize their potential. Instead, a number will die in childbirth in a country with the highest level of maternal mortality in Southeast Asia while others will suffer from poor nutrition or tuberculosis fueled by cooking over open fires.  Add to this a perpetual state of violence, especially domestic violence. While domestic violence was outlawed in 2010, many men and women still don't see wife beating as a criminal act.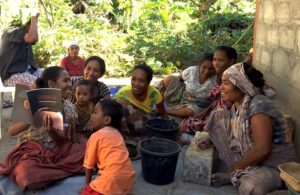 The following day, at a women-only gathering I attend, the women present share their stories about their own empowerment journey. Some women talk about their awareness of their rights as a result of working with the foundation flowing into their home environment and the counsel they give their friends who are exposed to violence. Others speak of the challenges of feeling such freedom to be fully themselves at work as compared to the traditional roles they are expected to occupy at home, often reinforced by their mother-in-law or other family members.  "When I'm sleeping, my mother-in-law scolds me and says "you should keep awake to give your husband his coffee." Family interference often triggers conflict, so finding ways to support the development of conflict-resolving communities is important.
Some Timorese women are only now learning that rape is a crime, as a result of the work undertaken to ensure that women are aware of their rights. Even with this awareness there is still hesitancy by many women in taking action due to attitudes by others, including the police, and hence there is a separate community policing program to engage police in attitude change.  Beyond women having access to laws and services that protect them from violence, and to deal with the aftermath, is the need to have access to economic opportunities that give them the income they need. This is crucial so that women have the independence they seek and the funds to keep themselves safe and to provide their children with access to education and health services.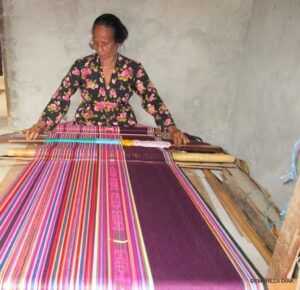 One of the programs that The Asia Foundation is supporting, thanks to funding from the United States government, is a Women Weavers Program developed with local partner, Empreza Di'ak, an organization founded by a wonderful woman, Ariana Simoes de Almeida and her husband, Filipe Alfaiate.
This program supports Tais weavers to build sustainable livelihoods for the traditional cloth that they weave into an array of garments and products.  By undertaking such work, the women can earn an income which helps them to leave and avoid abusive relationships, secure an education for themselves and family and increase their economic independence.  This work also helps to promote the cultural traditions of Timor-Leste through development of collectives for traditional tapestries across seven of the country's thirteen municipalities.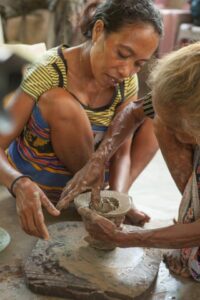 The staff at Di'ak tell me the story of an archaeologist who found remains of an ancient pot and asked around and found these old women who could explain the origins. These women were 92 and 94 respectively and they were asked to teach some of the younger women how to make old pots, and thus reclaim a lost tradition that was on the cusp of being lost forever, a program now called Turning Traditions into Livelihoods. Making these pots and woven garments provides a welcome source of income for communities as well as kindling their self-esteem and pride in what their communities can make and sell. Some of these women have gone from no income to up to USD300 per month and the program has so far positively supported 75% of the women who have participated in the program.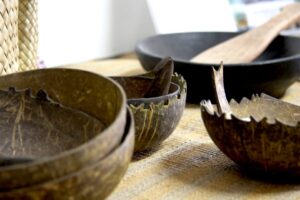 These women artisans in Timor Leste face real challenges to create markets for their products. These include the difficulty and expense of transport, especially for women living on less $1 a day and also the challenges of getting raw material and packaging as well as the high cost of postage. The women are experimenting with creating local products for local markets to augment the more expensive items they create for tourist and international markets. Products for local markets include small bags of compost as something that they can easily train and engage other women in creating.  Other women's groups create products such as cassava chips to sell at local markets in Dili.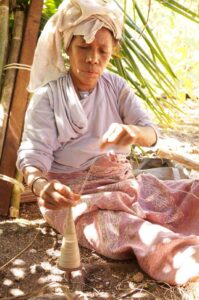 The women weavers program also teaches the women how to sign their names, as 84% of the current members are illiterate, and then there is the opportunity to undertake numeracy and literacy training and to involve other members of their family. Importantly, Di'ak is working to improve the financial and management skills of these women members to support the sustainability of the collectives. Di'ak also earlier created a business community center for training in sewing, music, English, compost and coconut shaping.  It also leads the work to test and pilot new products in small batches – we're shown the latest test products – seaweed, as a high nutrition food, and bamboo straws, which are both elegant and practical.  I also try on one of the hats the women have made. I instantly feel like I'm some magical being so I buy it on the spot to smiles from the staff.
I share with Susan and some of the D'Ak staff the idea of taking a group of these women to the Santa Fe Folk Art Fair where thousands of artisans and buyers from around the world attend each year to build buyer markets for artisan products. It's an opportunity to have direct contact with buyers and to learn from other artisans about how to build sustainable markets and supply chains for their products. We also discuss the potential for having an Asian women's artisan alliance and fair in order to create pipeline buyer markets for women artisans and cooperatives in Asia.
Later, I also reflect on the opportunity to learn from a program in Australia called Desert Knowledge, that is a research and action program designed to learn from remote desert Aboriginal and Torres Strait Islander communities in Australia and to help them secure economic opportunities to be sustainable.  For instance, Desert Knowledge helped broker a partnership between Aveda and a desert Aboriginal community to grow some of the ingredients for Aveda products. Imagine if there could be an Island Knowledge program that similarly documented the advantages of island communities in creating key products and then did a similar kind of matchmaking between communities in, say, Timor Leste, Tonga, Samoa, Tuvalu and Kiribati.
I'm asked to convene a session on approaches to gender with a group of donors, leaders and community representatives.  I say that it's clear that we need a different way of thinking about gender so that men don't see it as a zero sum game. Men can't see women's empowerment being at the expense of men otherwise we're never going to gain the buy-in needed by men to achieve the dramatic shifts needed to realize gender equality.  We need to lift up positive models of male leadership as well as female leadership and show how men can benefit by spending more time with their families, and learn new skills as well as creative pursuits.
In this session we talk about the power of the arts and of film to challenge stereotypes and to show women ways to be powerful advocates for change as a way to support strong movements for change.  There is real energy around a regular film event, and even a film festival as an advocacy and influencing forum.

Film is also a powerful medium to capture Timorese women's own views and voices of their experiences. One such film on the 'mermaids of Timor Leste', follows a group of fisherwomen striving to make a living in the coastal village of Adara, West Ataúro in Timor-Leste. The film captures the women's daily lives and the challenges they face from others in the community as a result of their work as underwater fisher-women. The film depicts the women's underwater dancing in a context of dramatic social change, where the women are being drawn to different livelihoods not linked to the sea and facing social expectations that challenge their independence from four generations of women doing this work.
I return to the hotel and, in my own mermaid skin, I climb to the rooftop and slip into the pool. Fat drops of rain are falling from a sky streaked crimson and I'm so happy to be here. I splash in the warm water and lie back against the ledge, attuned to the vibrations of life – and also the torpor, that constant tension. And then, kicking off from the shallows, I swim.
Jane Sloane
Dili
A footnote for those who don't know about Timor Leste?
Timor-Leste, formerly known as East Timor, was a Portuguese colony for more than 400 years before Indonesian forces invaded in 1975. That move led to one of the 20th century's most brutal occupations, which claimed the lives of 200,000 people—a third of the population. Timorese men and women fought side by side in the decades-long struggle for independence, which was finally achieved in 2002.