Listen Up. This is a women's story. Plural.
I'm here in Tanzania to visit women's groups working on sustainable agriculture and livelihood initiatives. As you may know, Tanzania is a country in East Africa within the Great Lakes region. Bordered by Kenya and Uganda to the north, Rwanda, Burundi and the Democratic Republic of Congo to the West; Zambia, Malawai and Mozambique to the South and the Indian Ocean to the east. And, always, the view of Kilimanjaro, Africa's highest mountain, providing poetic inspiration to Tanzania's population of some 47 million people.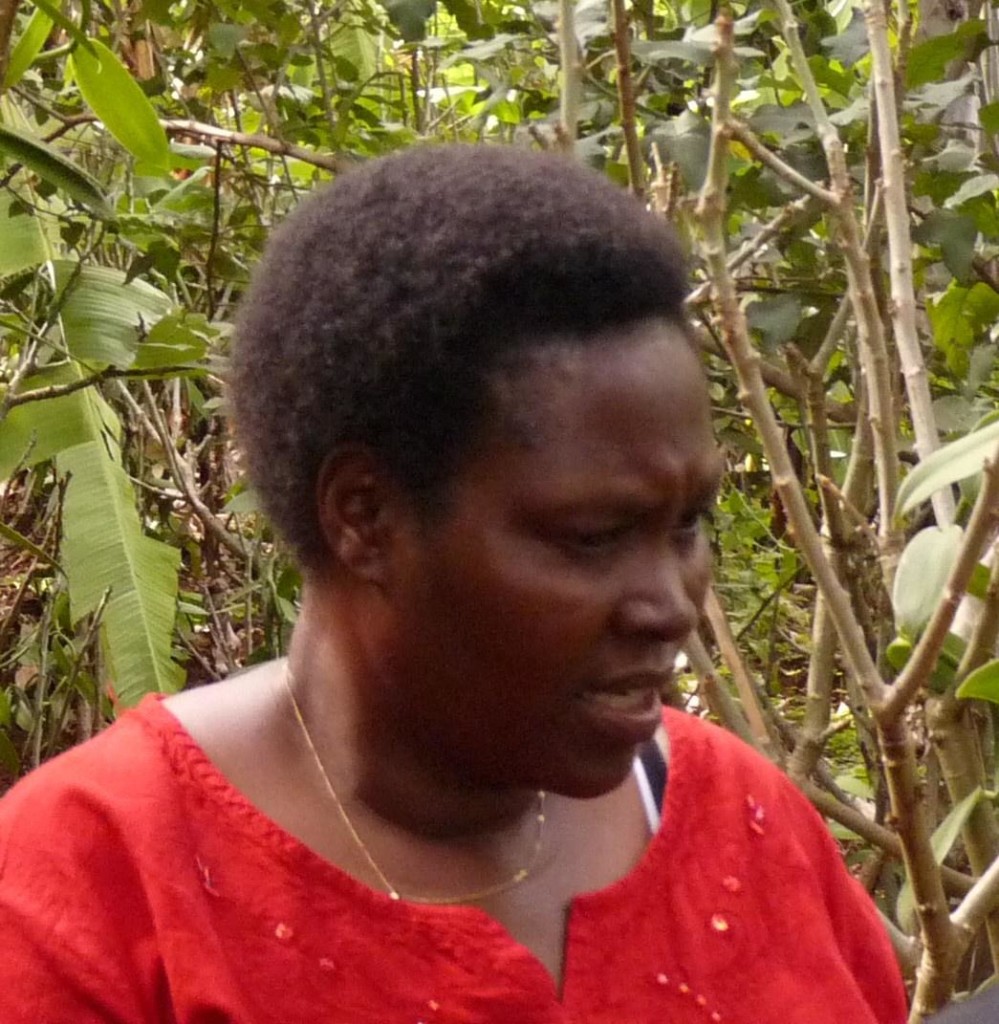 While here I spent time with Loyce Lema, the Founder of Tanzania Envirocare and whom I had previously met at a Women and Climate Change Convening in Bali. At Green Camp, where we were staying, we'd gone walking together along the track and saw the river. Loyce had grabbed my arm and said, "I haven't seen a river flowing for a long, long time."
As we walked onto the bridge with the river below us, Loyce stopped again and said, "Close your eyes, Jane. This is the sound that I have missed in my heart.  The sound of a river running free." In Tanzania, permanent rivers have become seasonal rivers and many have ceased to flow.
Loyce and her colleague, Freddie, collected me from Arusha and drove me to Kilimanjaro and, on the way there, Loyce shared stories of what was happening to women and girls in parts of Tanzania. Girls as young as nine being married off and getting pregnant as young as age 12, especially in Maasai culture and in remote communities. Lack of birth control meant that women often get sick and frequently died in childbirth. Certain traditional practices result in situations wherein women in some areas are still being accused of being witches and burnt to death.
Other girls were forced to undergo the barbaric practice of female genital mutilation, while others might contract HIV and face diminished opportunities due to sickness and stigma. Pesticide usage on crops was further increasing sickness and disease in a population where over 60% of girls and women live in absolute poverty. These were some of the issues Envirocare was working to address.
"Sustainable agriculture for rural people is essential because over 70% of the population live in rural areas," Loyce said. "Whereas the government is focused on big crops and enterprises like rice and maize managed mainly by men, the real opportunity for sustainable livelihoods lies with families having access to small plots where they can grow staples and vegetables and fruit for consumption as well as for sale at markets.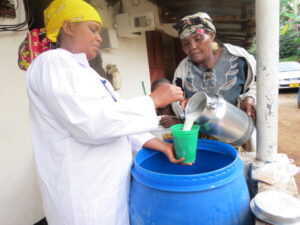 An hour later we arrived at a small schoolhouse-style building to be greeted by women, men and students who were keen to share stories of their work. My ability to speak Swahili was limited to a few words and so we talked in English. Several of the women shared the stories of their enterprise, Marukeni Women's Dairy Cooperative Society, which we would be visiting that day. "Cows belong to the women and so it was easy for us to create this business as milk belongs to the women," they said.
In this way, women can earn between $25-$125 per month from the milk alone, and this income sustains their basic needs.
"We would like to create other businesses that would bring income to our families and community." What about coffee?," I asked.
"Coffee is men's business," the women responded. "Coffee is big business and so it is men's business," Loyce added. "You need access to land in order to grow coffee and women don't have access to land because inheritance laws preclude it unless you're a widow in which case you can sometimes stay on the land after your husband's death, provided you don't remarry." "We are widows," offered two of the women.
"Well then, you could create a widow's coffee cooperative," I suggested. They smiled and seemed to tuck the idea somewhere in their minds.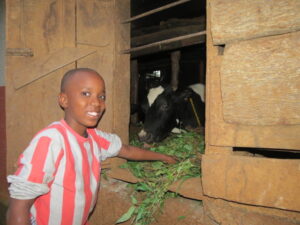 The children present were encouraged to join the discussion and some shared their own stories of being chicken owners and egg sellers to pay for school supplies and shoes with their average of $4 per month in income from egg sales. These children were given the opportunity to learn about agriculture at school and to spend time at Envirocare's organic farm so they could create their own small vegetable gardens. Envirocare also provided seeds to local schools so they could grow vegetables and ensure children could eat nutritiously while at school each day.
[symple_testimonial by="Joyce Banda" fade_in="false"]Most African women are taught to endure abusive marriages. They say endurance means a good wife but most women endure abusive relationship because they are not empowered economically; they depend on their husbands. [/symple_testimonial]
I told the group that I had spent time in Sri Lanka where I'd witnessed women who had been victims of domestic violence being invited into a women's circle, often the first time they had ventured out of the house for anything social. Here they were encouraged to tell a story, sing a song or share a poem that would help them become comfortable with their own voice and views being held. From this safe space they could eventually imagine an enterprise or artisan endeavor that might give them an income and economic independence. Usually their children would accompany them and in some cases the children would create their own circle and imitate the same process of sharing stories, music, theater and mime.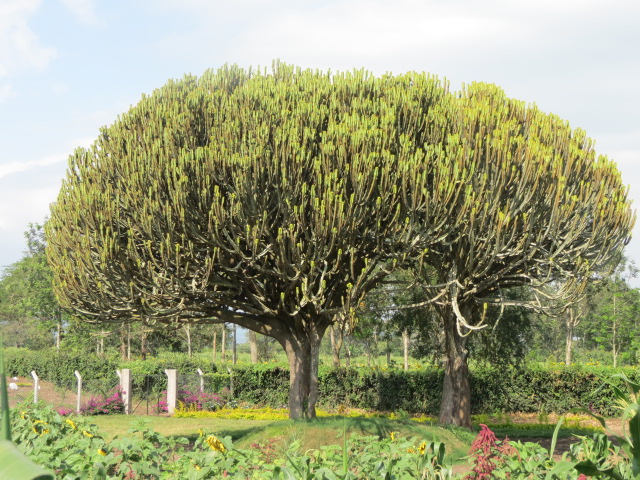 We headed out to Envirocare's rural office, which was also the site of organic farming and a hub for beekeeping and, most special of all, stingless bees!!! I couldn't believe it when Loyce told me this as she pointed to what looked like hanging logs – a bit like the hanging gardens my Dad used to make when I was a girl although these logs were closed yet allowing an occasional burst of bees to spill out.
"You're sitting on gold here," I said, excitedly. "There are so many people who would be attracted to buying stingless honey, and of course stingless bees! How much honey could you produce?" Loyce laughed. "We can produce lots and lots of honey because there is more land here for us to expand our work. And we could also create hive making workshops to ensure we have the right environment for the bee colonies."
We went on a walking tour of the organic farm planted out with avocados, passionfruit, leeks, sugarcane, eggplant, onion, cabbage, pumpkins, lemongrass, mint, beets and sunflowers for the bees to pollinate. Bees, honey, sunflowers, organic produce – this place was happiness central.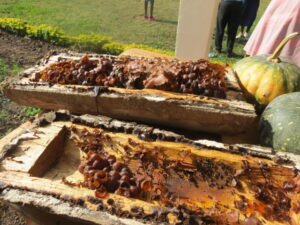 And then we returned to the honey. The men broke open one of the hives and the bees poured out, small and black, like flies – except they were unmistakably bees! Loyce scooped up honey for me with a large spoon and I tipped it into my mouth. Nectar of the Gods! I couldn't get enough of it. Loyce went one step further and began eating the bee pollen and propolis, rich in vitamins and medicinal qualities. It was miraculous to me as the bees flew around us, stingless! In that moment I felt like I was living in some kind of honey dream, a slow drip discovery of paradise.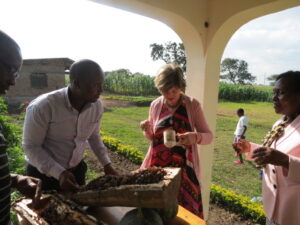 We all trooped into the cottage to eat lunch and then engaged in a spontaneous brainstorm on names and ideas. I was having fun suggesting names and the women's eyes sparkled as they imagined the potential. We arrived at three separate and related enterprises: Kilimanjaro Stingless Honey Cooperative, Kilimanjaro Sisters' Coffee Cooperative and a Kilimanjaro Sisters' Chocolate Cooperative. "If we have the funds for processing and packaging we can do so much – we can process ghee, yoghurt, cheese – and yes, make chocolate since we can also access organic cacao!" said one of the women. " It not only gives us an income, it means we are not paying expensive prices for milk exported from Kenya and South Africa which we can't afford." So, I realized my job would be to find the funds and the technical support to help get these women the business plan support, infrastructure and investment funds to make this a reality.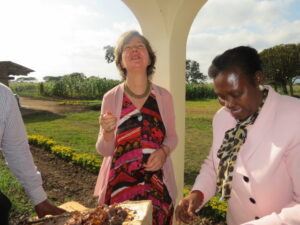 Of course I spun off into dream land for a while, remembering Sue Monk Kidd's book and movie, The Secret Life of Bees, and thinking about this Movement of bee women and their Hive, their organizing cell. It seemed crazy to me that all this potential was right here up close, and all it needed was the connection of funds and technical support to change the course of their lives. And of others too – for this success would spin out to other communities and the confidence and respect it would inspire would have a leapfrog effect for other women's groups and their own enterprises. Since women are more inclined to work relationally and seasonally compared to men, their own enterprises can often catalyze others that are seeded in support and then flourish on their own.
Finally after lunch, and with golden honey literally dripping from us, we headed off to see the women's dairy enterprise. After a long drive down bumpy tracks we arrived at a small village and walked into two large rooms that comprised the women's dairy with its large milk storage vats that were transported to town for milk sales on a regular basis.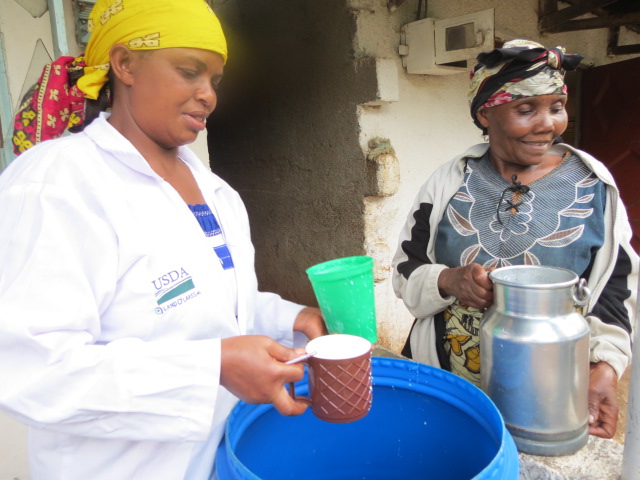 Loyce told the story of how the dairy cooperative came to be. "This place used to be a beer barn and the women were frustrated as they were dependent on their husbands and the men were drinking a lot of the day and didn't prioritize their families or their children's needs. So the women banded together and raised the money to buy the barn and convert it to a dairy cooperative." Today, the dairy is a constant flurry of activity and while I was there at least a dozen local village people came with their buckets to have their milk tested and weighed and their payment recorded in their milk book. Each month the milk suppliers receive a payment with the profits being reinvested in the dairy.
"See those men over there sitting down, smoking, drinking? They are the big men who run the coffee cooperative. They don't work like we work and so they don't earn as much."
When I asked them to calculate the difference in income the women asked the men and determined that the women running the dairy are making up to four times the amount the men are making by running the coffee cooperative. Of course, they said, that coffee prices fluctuated and dipped for a long time when coffee berry disease spread through rural areas.
"Could you earn more if you ran your own coffee cooperative," I wondered.
"For sure," replied the women. "We would run it the way we do our dairy, like a business that needs constant attention."
[symple_testimonial by="Chimamanda Ngozi Adichie" fade_in="false"]If I were not African, I wonder whether it would be clear to me that Africa is a place where the people do not need limp gifts of fish but sturdy fishing rods and fair access to the pond. I wonder whether I would realize that while African nations have a failure of leadership, they also have dynamic people with agency and voices. [/symple_testimonial]
The dairy was the brainchild of retired teacher Mrs. Elinduma Ngunda, who observed that every household had at least one cow and so people could milk their cows each day and bring the excess milk to the dairy to get paid. We visited Elinduma and her husband, and their grandson Clement William, and while there we paid our respects to one of Elinduma's two cows called Flower, creamy brown with a white spot and adorable in every way. Elinduma was a natural matriarch and connector. She was also a force for good. In describing the success of the dairy she was keen to share that that the cooperative was not only successful in its own right, it was available to the community for small loans, including for medical emergencies and for women who want to be farmers. And, she added, it also supports orphans, elders and widows where possible with resources and support they need.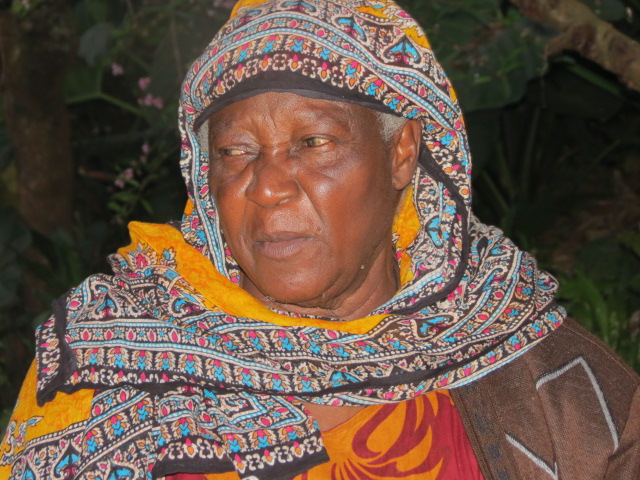 The Chairperson of the women's dairy cooperative, Mrs Urassa, was a woman who was widowed 17 years ago and she'd found new purpose, respect and authority in her village. The health, education and economic benefits were also impressive. HIV had been reduced in this community because people were healthier as a result of the food they could eat from the sale of milk, eggs, vegetables and coffee. Children stayed in schools here rather than being forced to marry early as their parents had access to money to sustain their needs and so they had better prospects in the long term.
We left those laughing, spirited women and rumbled into the night toward our own sleeping quarters. Just the three of us in the car again — Loyce, Freddie and I, and the immense land and sky before us. "Look up there," said Loyce. "The starry sky, it's so close here. We are connected."
I nodded. And we are kin.
Jane Sloane
Tanzania