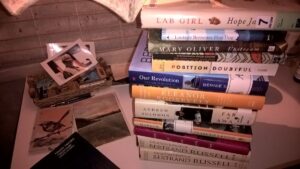 Reading is my great love, matched only by sharing these books, whether it's by passing them on to others or telling friends about the stories I've read. I'm curious about so much in life and reading both satisfies and fuels this curiosity.
Perhaps that's why my taste is so eclectic – it's a response to the messiness of life. I pivot equally to fiction and non-fiction in both wanting to answer the 'why's and 'how's as much as wanting to be entranced by a story well told. I'm drawn to the feeling of being carried away and I also love standing on the shoulders of giants, figuratively speaking, and appreciating new perspectives on the world. And of course being up close and personal with others whose view is from the ground or from the margins.
Books I Read In October
Here are some highlights …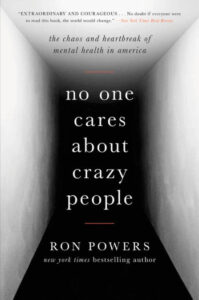 No One Cares About Crazy People: The Chaos and Heartbreak of Mental Health in America by Ron Powers: This book takes its title, and its cue, from the casual comment made by a Governor's staffer that captures the reality of people, politicians, policy makers seeing people with mental illness as those to be contained, pitied and treated with suspicion rather than helped.
This book is also intensely personal as Powers, a Pulitzer Prize winning author based in Vermont, details the journey his sons go through with both suffering from schizophrenia, one committing suicide and the other trying and surviving, and how Powers and his wife, Honoree, deal with what happens.
I almost didn't check out this book from my local library because I thought it would be too depressing. I'm glad I did, both for what I learnt and because, thanks to Power's fierce and fearless writing, I came away feeling hopeful and determined about what we can do rather than feeling helpless in the face of what we're dealing with here and elsewhere.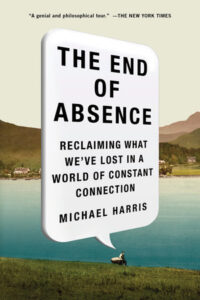 The End of Absence: Reclaiming What We've Lost in a World of Constant Connection by Michael Harris
I was drawn to this book as one that suggested respite from a culture where everyone seems to have their heads down, checking their phones, rather than eyes up to experience now life in the now.  The promise of the book, written by journalist, Michael Harris, was his poetic take on what future generations won't miss – the loss of lack and of quietude and day dream time due to the demands of constant connection.
Harris shares his own experience of being digitally connected and then unplugged however he's continually pulled back to how others are experiencing technological change and in exploring other people's experiments with technology.
I guess I was hoping more from what someone deliberately switching off from the ubiquitous social media and internet presence might discover however the book is less a meditation and celebration of slow self than it is a wrestle with these different ways of being.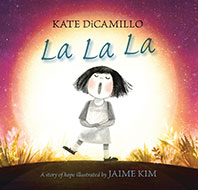 La La La by author, Kate DiCamillo, and illustrator, Jaime Kim
This almost wordless book has striking illustrations of a girl singing " La La La," in various natural scenes involving trees, leaves, sun and moon. The girl always gets sad though because she receives no song in response to her singing and so she finally wakes up to the moon singing La La La back to her, and later, and finally, the sun.
The author said she wrote it due to the intense loneliness she felt as a child until her sister was born, and in celebration of the connection she now has with her sister. I'm not sure how young children will respond to this book – I think the message of hope may resonate with those who are going through a difficult time and in some ways, it seems more a book for young adults or adults than for children.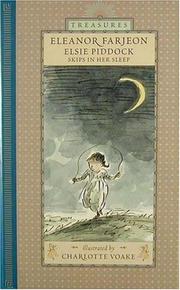 Elsie Piddock Skips in Her Sleep by Eleanor Farjeon
My Mum used to give me Celtic fairy tales to read when I was young and this book has that same magical quality.  
Elsie's life is filled with fairies and other children and Elsie's talent at skipping rope results in a marathon effort to save a village from a greedy landowner who agrees to what he thinks is an easy win for his plans to build a factory on a hilltop where fairies and children jump rope.
Elsie's skill, determination and love of life makes for a wise and affirming book for all little people – and big people too.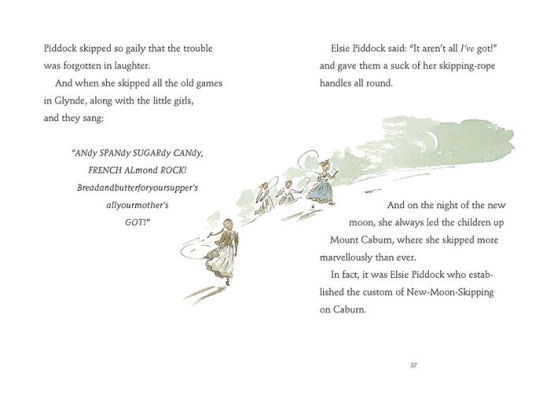 Gwen Harwood (1920-1995) is one of my favorite Australian poets and this is one of her best collections, together with her Poems Volume 2.  Here's an excerpt:
Could one seize and move
the stubborn words to yield and sing,
then one would write as one makes love
and poems and revelations spring
like children from the mind's desire,
original as light and fire.
For any lover of Mary Oliver's poetry this book is a treat as it contains some of her best work from the last fifty years. Oliver has chosen and curated these pieces and they follow her journey from the age of 28 to her most recent work in her collection, Felicity, published in 2015.
Within these pages there's so much of Oliver's acute observation of the natural world and insight to the human condition. Having it close and dipping into it is like an everyday act of meditation and prayer.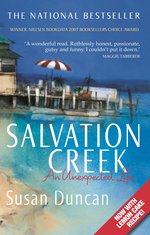 Salvation Creek by Susan Duncan – re-read
I'm surprised this book was never made a movie -or if it was, I must have missed it. I even treat this book like a favorite movie – returning to re-read it when I feel the need, or when I feel homesick for Australia.
At 44, Susan Duncan was living the dream. She was an editor of two top-selling women's magazines, had a happy marriage, enjoyed a jet setting lifestyle covering stories across the globe. And then her husband and brother die within three days of each other. Duncan keeps going until she can't and then she's diagnosed with breast cancer.  
While this storyline might sound like a descent to depression it's far from the truth. Duncan is a gifted storyteller and she's also very funny, aside from being very honest. The journey she goes on is rich and uplifting and the place she finds in herself — and physically in a natural idyll — is deeply affirming.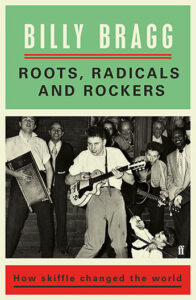 Roots, Radicals and Rockers: How Skiffle Changed the World by Billy Bragg
Having just seen Billy Bragg perform (check out his website and see if you can find a performance that isn't sold out near you – his performance is brilliant, brilliant, brilliant) I wanted to read this book. While I've just begun reading, it has already won me for the style of writing as much as the substance.
The book tells the story of the rock and roll movement in 50s and 60s England. It was called "skiffle" as a parallel movement to that in the US.  Bragg documents the rise of the skiffle movement from when young Brits developed a guitar-led rebellion against the jazz movement of the day and of skiffle being the precursor to so much of the great British music which followed.
It's an easy read and so typical of how Bragg interacts with his audience on stage. Bragg is a natural storyteller and as Bragg said up on stage, the pleasure is in the telling as much as the story.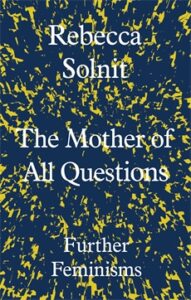 The Mother of All Questions by Rebecca Solnit
I read this book in one sitting and I'd stand and hand it to every person in the street, if I could. It's that good. Solnit says in her introduction to the book that a revitalized feminist movement is changing our understanding of consent, power, rights, gender, voice and representation. In this book, Solnit dives deep into what this means and what's at stake and how we need to respond.
It's a natural follow on from her last book, Men Explain Things and in this writing Solnit calls on men to challenge silence and end violence and join with women and those of all gender identities in transforming gender norms and behavior that perpetuates violence and silence.
What's powerful about Solnit's writing is that she really takes us there – her humor is powerful and her hammer of fury is a call to arms, which is really what this book is.
Jane