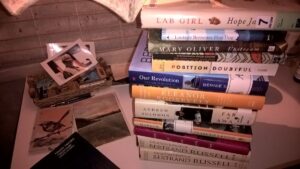 Reading is my great love, matched only by sharing these books, whether it's by passing them on to others or telling friends about the stories I've read. I'm curious about so much in life and reading both satisfies and fuels this curiosity.
Perhaps that's why my taste is so eclectic – it's a response to the messiness of life. I pivot equally to fiction and non-fiction in both wanting to answer the 'why's and 'how's as much as wanting to be entranced by a story well told. I'm drawn to the feeling of being carried away and I also love standing on the shoulders of giants, figuratively speaking, and appreciating new perspectives on the world. And of course being up close and personal with others whose view is from the ground or from the margins.
Books I've Been Reading In July
Here are this month's highlights …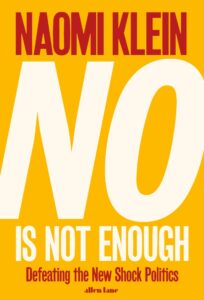 No is Not Enough by Naomi Klein – Naomi Klein illustrates her analysis of the power and politics of shock with many potent examples of how the shock of natural disasters and humanitarian crises have been exploited for political gain. Her analysis and optimism in the potential of social movements and proposed course of action reminds me of Rebecca Solnit's writing and especially Solnit's brilliant book, A Paradise Made in Hell. It would be great to have both these writers on stage together for an in-depth dialogue as they are two of the great intellects and advocates of our time. Until then we have their books.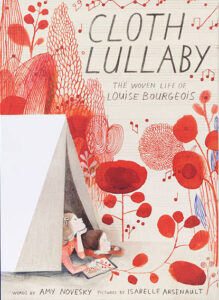 Cloth Lullaby – The Woven Life of Louise Bourgeois by Amy Novesky I was curious to learn more about Louise Burgeois, having been introduced to her work at the Tate Modern in London recently. This is poetic and evocative book weaves a visual and verbal narrative of Bourgeois' art. From textile creations and water color illustrations to large scale sculptures and bold installations this book is a journey and a dreaming song.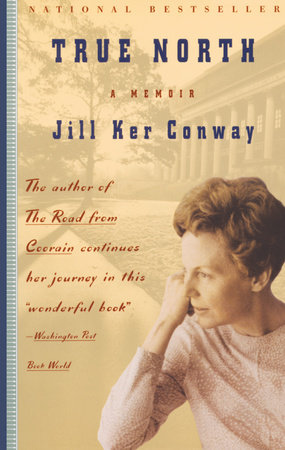 Re-reading True North by Jill Ker Conway I first read The Rood from Coorain, Jill Ker Conway's magical book that describes her journey from her life outback Australia to Harvard University in support of her desire for intellectual adventure and stimulation. True North is the description of her time at Harvard, earning a Ph.D. in history, her 'true north' in marriage and intellectual fulfilment, time at the University of Toronto finishing with the beginning of her new journey as President of Smith College. Ker Conway is a gifted storyteller as much as a leader and historian and I'm inspired by her continuing story, the choices she's made and the grace and generosity of her sharing.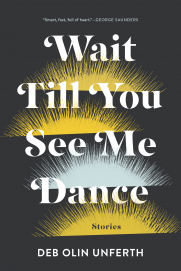 Wait Till You See Me Dance – Stories by Deb Olin Unferth Short stories are great to read on summer days and beaches and I was drawn to this collection by its name. The collection captures the messiness of life and the way her characters' muddle through and make decisions feels real. Unferth's style is spare and tender and she provokes thinking about the choices we make and what makes us feel fulfilled with this range of stories and situations. More a book for a long plane flight than a beach read though!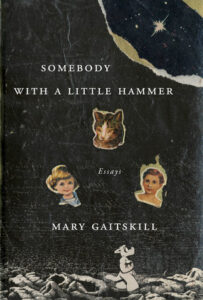 I wanted to read Somebody with a Little Hammer: Essays by Mary Gaitskill because her writing is so good and this is her first book of nonfiction. It's a terrific collection that takes its title from a sentence in Anton Chekhov's short story "Gooseberries." "At the door of every contented, happy man," Chekhov wrote, "somebody should stand with a little hammer, constantly tapping, to remind him that unhappy people exist, that however happy he may be, sooner or later life will show him its claws, some calamity will befall him — illness, poverty, loss — and nobody will hear or see, just as he doesn't hear or see others now." These essays span music, writers, travel, politics, sex and gender and Gaitskill taps at the issues at the heart of work by artists including Norman Mailer, Joyce Carol Oates, Talking Heads, Björk and Celine Dion.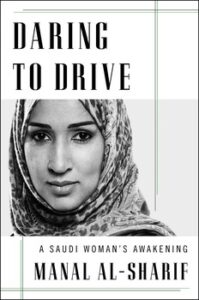 Daring to Drive by Manal al-Sharif. The author made headlines in 2011 when she drove a car in Saudi Arabia in defiance of local regulations and was jailed for the crime of "driving while female." This book is her memoir that charts the journey to this point, and then what happened afterwards. al-Sharif takes us into the world of Saudi Arabia oppresses women through rules such as male guardianship, refusal to allow women to drive, and restricting women's freedom of movement and explains how this plays out practically as well as how a strict interpretation of Islam affects legal institutions including transportation, education, employment, and much more.
al-Sharif details her own experiences from childhood to adulthood and documents the impact such laws have on many who are marginalized in Saudi Arabia. She also shares personal stories such as the woman whose father dies at home because she couldn't drive him to the hospital. When al-Sharif's researches the law she discovers there's no actual law against women driving her activism she determines to drive a car outside the compound and other women join her and create a movement they call Women2Drive, accompanied by a savvy social media campaign. When al-Sharif becomes a social media sensation, the reaction of the government is to jail her. Daring to Drive documents the immense challenges women face in Saudi Arabia today and the rising momentum for change. It was hard to read this book and I turned the last page just as my plane was landing and passed on my copy to the woman sitting next to me, keeping the story alive.
Jane