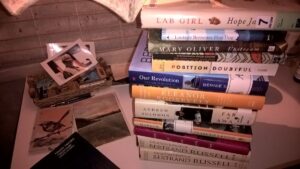 Reading is my great love, matched only by sharing these books, whether it's by passing them on to others or telling friends about the stories I've read. I'm curious about so much in life and reading both satisfies and fuels this curiosity.
Perhaps that's why my taste is so eclectic – it's a response to the messiness of life. I pivot equally to fiction and non-fiction in both wanting to answer the 'why's and 'how's as much as wanting to be entranced by a story well told. I'm drawn to the feeling of being carried away and I also love standing on the shoulders of giants, figuratively speaking, and appreciating new perspectives on the world. And of course being up close and personal with others whose view is from the ground or from the margins.
Books I Read In September
Here are the highlights …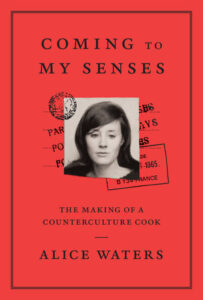 Coming to My Senses: The Making of a Counterculture Cook by Alice Waters is her memoir and a great book for anyone interested in the intersection of counterculture, California, politics, food, France, film and family. Waters packs a lot into this book however it doesn't feel heavy rather it zips along at a snappy pace with snippets of recipes and food facts interspersed throughout.
Living in California made this an extra special read for me however it's an entrancing read for anyone interested in Alice Waters life journey and her opening her restaurant, Chez Panisse in 1971, when she was 27. It's also a story of activism – food activism and an active and questing spirit learning when to be bold and when to bend.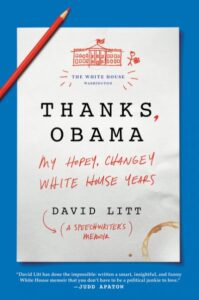 Thanks, Obama: My Hopey, Changey White House Years by David Litt – I read this on a 5-hour plane journey – started it when we took off and put it down just as we were landing – and then left it on my seat with a note for another passenger that it was a great read and to please take it! I was only into the first few pages when I began to laugh out loud, attracting a few sideways glances from other passengers – Litt can be very funny when he chooses. In other places, the stories he shared were poignant.
David Litt was the youngest ever White House speechwriters in history and his light touch in this book speaks to his control of language, timbre and tone and his ability to tell the story of his own political coming of age, as much as the Obama years. The subtitle, we learn, comes from Sarah Palin's taunt – and it keeps coming back to me long after I finished this book. How's that hopey changey world turning out for ya? For me, I'm happy to have joined the indivisible movement sweeping across the US that's keeping that dream alive, in tandem with other social movements responding to the changed political landscape.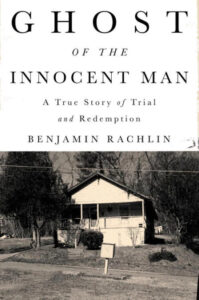 Ghost of the Innocent Man by Benjamin Rachlin – I tweeted that this book was hands down the best book I'd read this year. It's hard to overstate the importance of its subject matter and that it's brilliantly written. The book deserves to be a film and I hope someone has optioned the screen rights. It reminds me of the Shawshank Redemption however in this case there's also those in the justice system who are seeking justice as much as those wrongly accused who serve life sentences in jail.
Essentially the book tells a dual narrative – of the more than two thousand American citizens that have been wrongfully convicted and who are given voice by the personal story of Willie Grimes and of the vision of a group of dedicated lawyers who created North Carolina's Innocence Inquiry Commission. In many ways, the book captures the dual narrative of America's history – devastating injustice and individuals banding together to challenge and fight this injustice. Rachlin is a gifted and compelling storyteller and his meticulous research shines a light on a too often forgotten issue in the US – and on Grimes, his dignity, fierce persistence and quest for justice. It's profound, profound, profound – a deep resonant call for reform.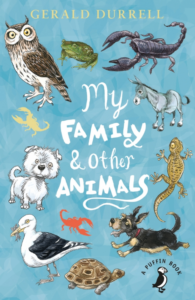 My Family and Other Animals by Gerald Durrell – my friend Thatch introduced me to the mini-series, The Durrells, and I'm totally in love with the series, the characters and with Corfu. It's been years since I went to Corfu – I was there in my 20s where I hired a scooter and spent days roaming the island – and now I'm thinking of being back there next year and reliving the dream.
The book tells the story of the Durrells decamping from a gray English climate to the sunny call of Corfu and of the many eccentric characters who populate the island, and the Durrell family's life during their years on Corfu. While Gerald is best known as a naturalist, and for the zoo he created, this book is really about his family and the humans in his life as much as the more than human world he was drawn to on the island and beyond.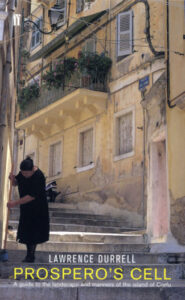 Prospero's Cell A guide to the landscape and manners of the island of Corfu by Lawrence Durrell – Gerald Durrell's brother, Lawrence, was the writer in the family and his own account of time spent in the Ionian island of Corfu before the second world war is poetic and eloquent. In fact, the travel writer, Freya Stark, pronounced it 'among the best books ever written.'
Lawrence Durrell is masterful in his use of language and in his observation of both humans and landscape. It's a slim volume and worth savoring. A keeper.
And here is a plug for two magazines I subscribe to: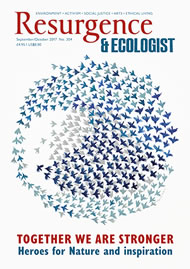 Resurgence – a bi-monthly UK magazine created by former Jain monk, Satish Kumar who walked the world for peace and co-created the EF Schumacher College (Small is Beautiful) where they have such inspiring studies and short courses. The magazine is a positive expression and invocation of what we're working for – a world that is equitable, sustainable and just, informed by an aesthetic of beauty in form, content and image.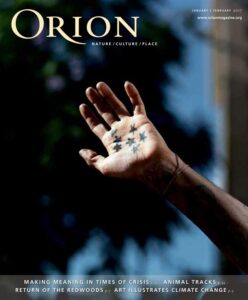 Orion is also a bi-monthly magazine focused on nature, culture and place, with a commitment to addressing environmental and societal issues and stories and it's published in the US. The magazine is studded with stories and articles written by luminaries such as Wendell Berry, Terri Tempest Williams, Barry Lopez, Rebecca Solnit, Michael Pollan, Sandra Steingraber, Bill McKibben, Gretel Ehrlich, James Howard Kunstler, Barbara Kingsolver, Gary Snyder, and E.O. Wilson.
Jane