Reading is my great love, matched only by sharing these books, whether it's by passing them on to others or telling friends about the stories I've read. I'm curious about so much in life and reading both satisfies and fuels this curiosity.
In sharing this list of books I've been reading, and re-reading, a deep bow to my local library (#lovemylibrary). Sausalito Library is one of my favorite places. Aside from being a reading sanctuary, there's also regular community evenings with local filmmakers, artists and activists.
This includes the screening of film classics such as 'The Houseboat Wars' and 'The Last Free Ride' (billed as a 'hip pirate movie') and 'Sausalito After the Bridge' where hundreds of locals turn up for the evening.
In the corridor next to the library hangs an artists' history of Sausalito, complete with descriptors of the artists themselves and their own relationship with Sausalito. Complimenting this are the art exhibitions in the library, including art from the 'anchor outs' those on boats who live in the middle of the bay and row in each day to use the amenities and collect supplies. Within the library there's big comfy chairs for the locals who wander in, plenty of spaces to plug in and the most brilliant collection of books and audio this gal could imagine. Upstairs there's a Friends of Sausalito Library second hand book store,
The creativity of the offerings reminds me of the 'Living Books' that my local library from Australia (Stirling Library, Adelaide Hills) introduced where you could 'borrow' a person for an hour or more to learn more about their craft, talent, experience to inform your own research and curiosity.
Most of all for me, to be in a space free of cell phones and where there's reverence for reading is pure joy.
Books I've Been Reading In August
No Apparent Distress: A Doctor's Coming of Age in the First Lines of American medicine by Rachel Pearson, MD – I read about this book in the Sunday New York Times and then found it on the library shelf. The title is drawn from a phrase used to describe patients who appear stable. Medical students learn on the bodies of those who are poor―and those who are poor suffer from their medical mistakes. Pearson describes what happens when profit motives trump care and happen at the expense of those who can least afford or merit it. It's an accessible read however the stories are devastating.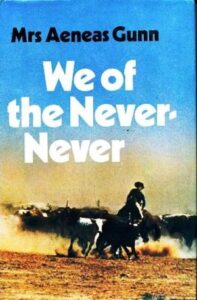 We of the Never Never by Mrs Aeneas Gunn was written by Jeannie Gunn however she published the book using her husband's first and last name. This book is an account of the author's experiences in 1902 at Elsey Station near Mataranka, Northern Territory, Australia. Gunn was the first white woman to settle in the Mataranka area. She was discouraged by officials from accompanying her husband to the station on the basis that as a woman she would be "out of place" on a station such as the Elsey. However, Gunn travelled south and her book describes the journey, settling in and contending with the local conditions and Indigenous and non-Indigenous bush folk. Gunn's writing, and the book itself, is a revelation.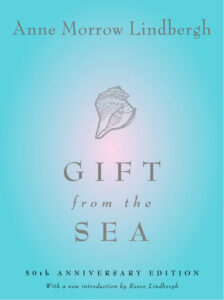 A Gift from the Sea by Anne Morrow Lindbergh – This is an exquisite and wise book on love, growing older, creative life, solitude, relationships and care of the soul which Lindbergh expresses through finding shells and other beached life on the seashore. Like Rilke, Lindbergh advocates time for solitude: "I find there is a quality to being alone that is incredibly precious. Life rushes back into the void, richer, more vivid, fuller than before.'
Jonathon Livingston Seagull by Richard Bach – I first read book this in my teens and was entranced its transcendence – the messages of being true to yourself, flying your own path and living a life of love, respect, forgiveness, compassion and generosity.  I found this edition in the Friends of Sausalito Library shop. It was inside a silvery case and I couldn't resist – especially with seagulls flying all round my boat in such a non-conforming community. I'm sure there's a flock of Jonathan's flying above Sausalito – wings beating to their own drum.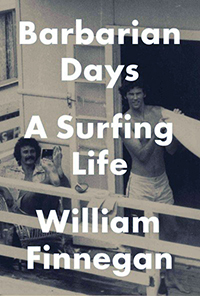 Barbarian Days: A Surfing Life by William Finnegan – I've always wanted to surf and one day I'll go and enroll in that surfing and goddess retreat in Bali that has been tempting me. However, until then, reading surfing memoirs is the next best thing and Finnigan's wild spirit is given full expression in this elegantly written, view from the ground, coming of age book.
Letters to a Young Poet by Rainer Maria Rilke – it's astonishing that I haven't read this book until now. I read it in one sitting – perched on my boat deck early evening after a very hot day with picnic food, a bottle of ginger beer and the poetry of boats and paddle boarders gliding before me.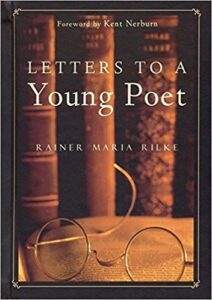 There is so much wisdom in this book that it's worth keeping close. One quote of many that I've dog-eared in the book:
'…it is always my wish that you might find enough patience within yourself to endure, and enough innocence to have faith. It is my wish that you might gain more and more trust in whatever is difficult for you, in your aloneness among other things. Allow life to happen to you. Believe me, life is right in all cases.'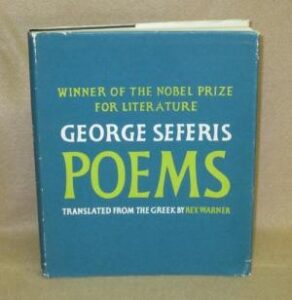 Poems by George Seferis – I thought I might find a poem sent to me once by someone I loved however it wasn't in this volume. While this book has some good poems with lines such as 'sleep wrapped you round, like a tree with green leaves', it's this fragment from a work in Seferis's Collected Poems, 1924-1955 that I love best:
the angels are white flaming white and the eye that would
confront them shrivels
and there's no other way you've got to become like stone if
you want their company
and when you look for the miracle you've got to scatter
your blood to the eight points of the wind
because the miracle is nowhere but circulates in the veins of
man'
Hydra, Athens, 1939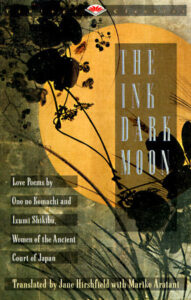 The Ink Dark Moon: Love Poems by Ono No Komachi and Izumu Shikibu – both Komachi and Izumu lived in the one Golden Age in which women writers and poets were the (recognized) predominant geniuses. This occurred at the turn of the last millennium when the emperors of Japan held court in the city of Kyoto and Komachi and Shikibu were two of the women poets in this court.
These women were two of the most revered poets of their time. Here's a taste:
Komachi
A diver does not abandon
a seaweed-filled bay…
will you then turn away
from this floating, sea-foam body
that waits for your gathering hands?
Shikibu
I cannot say
which is which:
the glowing
plum blossom is
the spring night moon
and Shikibu's last poem before she died
The way I must enter
leads through darkness to darkness
O moon above the mountain rim
please shine a little further
on my path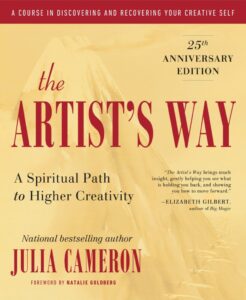 Julia Cameron: The Artist's Way I wanted a re-reminder from the author about the benefits of writing Morning Pages (15 minutes of free form writing), taking oneself on weekly artist dates (to open the mind and self), and 2-3 short walks each week and one long one to build creative strength. This book is a classic and her subsequent books reinforce the central tenet of this book: make time for your creative self.
Jane
(Sausalito Library)