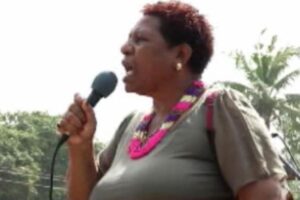 When I last saw Janet Sape she was talking about her dream of creating a Microbank for Women in Papua New Guinea.  Now that dream is about to become a reality as she awaits the banking license for this new bank, with its working title of Pacific Women's Bank.
"We had been discussing the name Meri Bank, as Meri means women in Papua New Guinea, but we also want to be able to expand the bank beyond PNG and we need the name to be relevant in other Pacific countries too," Janet Sape explained today.
As a successful business woman who founded City Mother's Foundation in 2006 and is now the Founder of PNG Women in Business Foundation, Janet now has 13,000 women signed up as financial members of this foundation and over 15,000 women registered in total.  In addition, she and her colleagues have arranged to provide financial literacy training and IT training to women wanting to open bank accounts or take out a loan.  This foundation will also, in time, work to provide access to affordable housing, health care, education and health insurance for women who are members.
Speaking about issues around women's economic empowerment today, Janet said
"More than 80% of PNG women live in rural areas where there's no access to banking or finance.  The vast majority of these women work in the informal sector, as tailors, farmers, fisher-women, where they have no financial security and are very vulnerable. Women can't inherit property and they rely on their husband's signature for security if they're wanting to take out a small loan.That's why we're planning to undertake a pilot project in three rural areas, and one in Port Moresby.  Some areas of the country are more challenging, such as Mt Hagen, due to law and order issues, and so we have to be realistic about what we can achieve in the medium term."
"We are small people here.  We don't have Bill Gates or Oprah Winfrey to champion us.  Women have to help each other, especially in an environment where polygamy is increasing and marriages are shaky.  If a woman walks out of a marriage then she's left with nothing.  However, if a woman is financially secure she can buy land or a house and own it.  She can pay to put food on the table, give her children an education, manage her business and afford health care.  Truly, economic independence will be the savior of women in this country."
To be eligible for a loan at this women's bank, women will be required to do compulsory financial literacy training and to have a track record of at least six month savings.
The time is right for such an initiative, Janet Sape says. "This bank will give women hope for their future, especially when violence against women in the home is particularly bad.  If a woman has access to savings then she can leave her home and establish her own life.  With the big LNG pipeline, only a quarter of the country will benefit with three quarters missing out.  Whereas with a bank like this, women from across the country can benefit.   It's a way to reduce the gap between the "haves" and the "have nots."
Scholla Kakas, President of the National Council of Women (PNG) agrees.
"At present, basic services are not reaching women in rural and remote areas.  There's no infrastructure to support women's economic empowerment and women have no say in important decisions.  And yet women will turn this country around once we have the resources and the influence.  We know the problems really well. We know what's needed too. We've already seen what Dame Carol Kidu has been able to do for women and children and the disempowered through her time in Parliament.  I pray that one day God will let a woman rule this country.  Until then, we really hope the Global Fund for Women, and all those who support women's rights, will help us in our struggle for justice, security, voice and power.
We only receive 150,000 kina from the government (US$72,000) as a national women's organization.  We have no national office here, we work from our homes and in hotels for meetings such as this. This is despite the fact that we have 62 local women's councils and we represent thousands of women across the country.  However, with the Bill currently in Parliament it will effectively mean that the National Council of Women will be the mandated voice of women in this country from the capital all the way to the village level.  We'll help women to know their rights and we'll be a powerful force for good across the nation.  We just hope we can now attract the resources and funding to sustain our movement building."
 Nearby, at the Airways Hotel where I met with a group of women, the staff were (literally) rolling out the red carpet for the arrival of Senator Bob Carr, Australia's Foreign Minister.  It was reported today that Senator Carr said further action on domestic and sexual violence would be on the agenda for the inaugural Australia-PNG Ministerial Forum in Port Moresby this week.
Let's hope that it results in a comprehensive plan of action.
A plan that engages the National Council of Women to galvanize women and men across the country to work to end violence against women and the PNG Women in Business Foundation to help power women to a new economic reality.
Jane Sloane – Papua New Guinea
UPDATE
I found this old post from my time at IWDA…
PDF: 20100403-IWDA-JaneSloane The Personal is Political
[pdf width="800px" height="1000px"]http://janeintheworld.com/wp-content/uploads/2012/12/20100403-IWDA-JaneSloane-The-Personal-is-Political.pdf[/pdf]
You might also like to read…
[related_posts limit="3″]